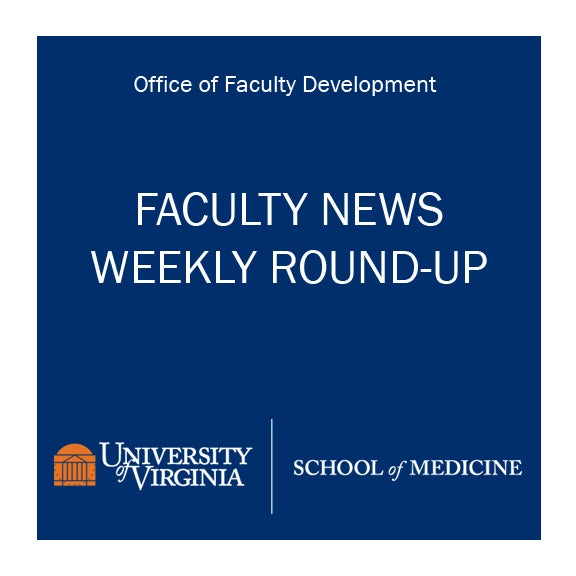 UVA SOM Faculty News Weekly Round-Up
June 8, 2018
• UVA Researchers Publish Findings on Mobile Health Intervention for HIV Patients
A team of researchers led by Rebecca Dillingham, Director of UVA's Center for Global Health, have published their findings from a 12-month study of mobile health intervention for people living with HIV.
Other UVA SOM researchers contributing to the study include Karen Ingersoll, Tabor Flickinger, Ava Lena Waldman, Marika Grabowski, Colleen Laurence, Erin Wispelwey, Mark Conaway, and Wendy Cohn.
Read more: https://www.liebertpub.com/doi/abs/10.1089/apc.2017.0303…
• UVA, Other Top Cancer Centers Endorse Steps to Eliminate HPV-Related Cancers
The University of Virginia Cancer Center has joined the other 69 National Cancer Institute-designated cancer centers in endorsing a goal of eliminating human papillomavirus-related cancers through vaccinations and screenings to treat cervical pre-cancers.
"For the past decade, medicine has had the ability to eradicate future cervical cancers (and markedly decrease other HPV-related cancers) with a combination of prevention via HPV vaccination and cancer screening, yet that dream has yet to be fully realized," said Dr. Susan Modesitt, MD, Professor of Obstetrics and Gynecology. "As a medical community, we have the responsibility to forcefully advocate for HPV vaccination and educate all of our patients (as well as the physicians caring for them) about the benefits so that cervical cancer could become a disease of the past, like polio or smallpox."
Read more: https://news.virginia.edu/…/uva-other-top-cancer-centers-en…
• Mark Miller, MD, Recognized as 'Orthopedic Surgeon to Know'
Miller, Professor of Orthopedic Surgery, Division of Sports Medicine, is recognized by Becker's Spine.
Read more: https://www.beckersspine.com/…/41347-orthopedic-surgeon-to-…
• UVA House Call: Dr. John Dent on Stress Tests
John Dent, MD, Professor of Medicine, Cardiovascular Medicine, discussed the use of stress tests to evaluate heart issues.
Watch the interview: http://www.nbc29.com/…/uva-house-call-dr-john-dent-on-stres…
—
Did we miss something? If you have UVA SOM faculty news to share, please email christa@virginia.edu.
Filed Under: Faculty News Weekly Round-Up, News