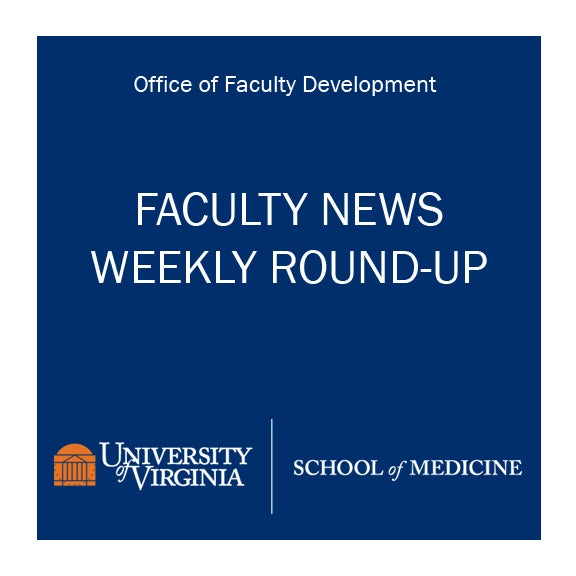 UVA SOM Faculty News Weekly Round-Up
June 1, 2018
• UVA Doctor Led Creation of New Colorectal Cancer Screening Guidelines
The American Cancer Society has announced significant new guidelines for colorectal cancer screenings, and a major contributor to the new protocol is Andrew Wolf, MD, Associate Professor of Medicine at UVA School of Medicine.
The previous recommendation for adults was to begin getting regular colorectal cancer screenings at the age of 50. Now the American Cancer Society is telling most people to get their first at age 45.
The new guidelines were developed by a volunteer group led by Wolf, an associate professor of medicine. The group included clinicians, epidemiologists, biostatisticians, economists and a patient representative.
Read more: https://news.virginia.edu/…/uva-doctor-led-creation-new-col…
• UVA Researchers Develop New Technology to Manage Cancer Pain
Leslie Blackhall, MD, Associate Professor of Medicine, is part of a UVA team working on a pilot research project using in-home wireless sensing technology to help patients and lay caregivers better manage cancer pain in the home setting.
Blackhall, MD, is working with John Lach, PhD, Chair, Professor of Electrical and Computer Engineering, and Virginia LeBaron, PhD, APRN, ACNP-BC, FAANP, Assistant Professor of Nursing.
"At a time when the nation faces an opioid addiction crisis, we are looking for ways to ensure the safe use of prescription opioid medications, while also keeping patients comfortable and engaged," LeBaron said. "We want to help caregivers and patients find that balance where they can safely relieve the pain symptoms of advanced cancer and maintain the highest quality of life possible."
This interdisciplinary and collaborative research endeavor is funded by the Seed Grant Program of the Center for Engineering in Medicine, part of the UVA School of Engineering and Applied Science.
Read more: https://news.virginia.edu/…/uva-researchers-develop-new-tec…
• As on 'Grey's Anatomy,' UVA Targets 'Giggling' Epilepsy with Focused Ultrasound
What was fiction on a recent episode of "Grey's Anatomy" is being pioneered for real at UVA.
The episode "Hold Back the River" featured the show's doctors using focused sound waves to treat a brain mass known as a hypothalamic hamartoma in a young boy. That approach – portrayed as experimental even on the show – is being tested in a clinical trial at UVA.
"It was a very clever, and surprising, use of our research," said Nathan Fountain, MD, Professor of Neurology. Fountain is also the principal investigator of the clinical trial, which is supported by Epilepsy Foundation of America and Focused Ultrasound Foundation.
Read more: https://newsroom.uvahealth.com/…/as-seen-on-greys-anatomy-…/
• Removing Wrinkles Inside Our Cells Might Reverse Aging
A new discovery about the effects of aging in our cells could allow doctors to cure or prevent diabetes, fatty liver disease and other metabolic diseases – and possibly even turn back the clock on aging itself.
The finding suggests that fatty liver disease and other unwanted effects of aging may be the result of our cells' nuclei – the compartment containing our DNA – getting wrinkly. Those wrinkles appear to prevent our genes from functioning properly, the UVA researchers found.
There's no wrinkle cream for nuclear membranes, but there is a tantalizing possibility: We might use viruses to smooth the membranes' surfaces – and restore the cells to functioning as they did in the glow of youth.
The discovery was made in the lab of Irina M. Bochkis, PhD, Assistant Professor of Pharmacology, and was published in Aging Cell, a publication of Anatomical Society.
Read more: https://news.virginia.edu/…/removing-wrinkles-inside-our-ce…
• UVA House Call: Dr. Nicole Chioata-McCollum on Strokes
Listen to NBC29's interview with Nicole Chiota-McCollum, MD, Assistant Professor of Neurology.
Read more: http://www.nbc29.com/…/uva-house-call-dr-nicole-chiota-mcco…
—
Did we miss something? If you have UVA SOM faculty news to share, please email christa@virginia.edu.
Filed Under: Faculty News Weekly Round-Up, News