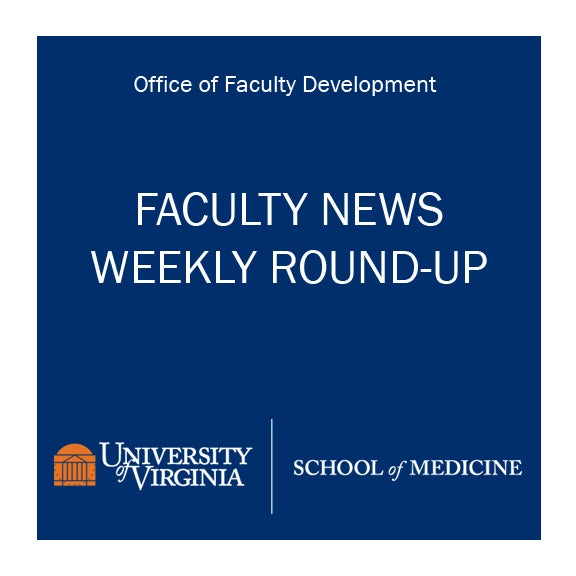 UVA SOM Faculty News Weekly Round-Up
April 20, 2018
• UVA Pediatric Oncologist Honored on Top 10 List of Clinical Research Achievements
A UVA researcher's pioneering work in childhood cancer has been honored by the Clinical Research Forum as one of the top 10 clinical research achievements of 2017.
Daniel "Trey" Lee, MD, Assistant Professor of Pediatrics, has been developing a new gene therapy to battle treatment-resistant leukemia in children and young adults. Known as chimeric antigen receptor (CAR) T-cell therapy, the approach genetically modifies a patient's own immune cells to identify and kill cancer cells.
"So many excellent, high-impact clinical trials are performed every year. To have our work chosen as one of the top 10 in the country is an incredible honor. I am so grateful for our incredible team of investigators, without whom we wouldn't have such an impact on kids with cancer," Lee said. "Our results have paved the way for combination CAR T-cell therapies in leukemia, aimed at overcoming one of CAR therapy's major obstacles – tumors changing their proteins to escape CAR T cells. That we are pioneering this in children, before adults, is amazing."
Read more: https://newsroom.uvahealth.com/…/pediatric-oncologist-honor…
• Cancer-causing Virus Discovery Could Lead to Cures for HPV, Other Viruses
Using a homemade, high-tech microscope, scientists at the School of Medicine have revealed how a cancer-causing virus anchors itself to our DNA. That discovery could pave the way for doctors to cure incurable diseases by flushing out viruses, including HPV and Epstein-Barr, that now permanently embed themselves in our cells.
"The reason we can't get rid of these [viruses] is because we can't figure out a way to get their DNA out of the nucleus, out of the cell," explained UVA researcher Dean H. Kedes, MD, PhD, Professor of Microbiology, Immunology, and Cancer Biology. "They depend on this 'tether' to remain anchored to the DNA within our cells, and to remain attached even as the cells divide. This tether is a key factor to disrupt in devising a cure."
Now that scientists can understand this vital infrastructure, they can work to disassemble it. "Without it," Kedes noted, "the virus is going to lose its hold in the body. … Bad for the virus, but very good for the patient."
The findings have been published in Proceedings of the National Academy of Sciences.
In addition to Kedes, the following UVA SOM members contributed to the study:
– M. Mitchell Smith, PhD, Professor of Microbiology, Immunology, and Cancer Biology
– Graduate student Margaret Grant
– Lab specialist Matthew Loftus
Read more: https://newsroom.uvahealth.com/…/uva-reveals-how-a-cancer-…/
—
Did we miss something? If you have UVA SOM faculty news to share, please email christa@virginia.edu.
Filed Under: Faculty News Weekly Round-Up, News