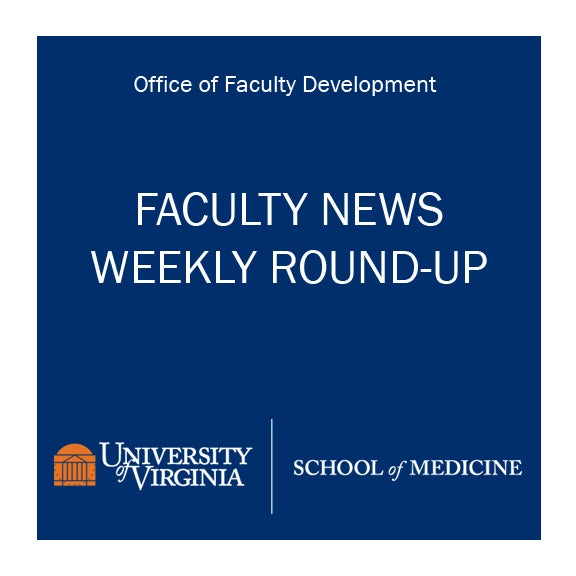 UVA SOM Faculty News Weekly Round-Up
April 13, 2018
• UVA Solving the Dietary Salt Quesiton: Why is My Blood Pressure Sensitive to Salt?

Researchers at the University of Virginia School of Medicine and the George Washington University School of Medicine have discovered how a gene variant found in 48 percent of the population can limit the body's ability to eliminate excess salt after high-salt meals.
Previously, the UVA researchers demonstrated that each individual is genetically programmed with a "personal index of salt sensitivity," suggesting sodium chloride dietary guidelines should also be personalized. The approximate 30 percent of the population that is sensitive to salt will have a higher incidence of strokes, heart attacks, kidney failure and blindness because of the inability to eliminate sufficient sodium.
In their new findings explaining the genetic causes of salt sensitivity, the researchers determined that the genes code for a protein in the kidney that helps balance sodium elimination with sodium retention.
"It's important for the body to get rid of excess sodium because having too much sodium in the body causes the body to retain water, which can raise blood pressure and significantly shorten one's lifespan," said Robin A. Felder, PhD, Professor of Pathology and the senior author of a new paper that details the discovery, published in the online journal PLOS ONE.
Felder's research was based on a study population tested previously at UVA by Robert M. Carey, MD, MACP, Dean Emeritus of the School of Medicine and Professor of Medicine, Endocrinology and Metabolism.
Read more: https://www.news.virginia.edu/content/uva-solving-dietary-salt-question-why-my-blood-pressure-sensitive-salt
Visit the study's website: https://www.saltstudy.com/
• Discovery Could Let Doctors Customize Brain's Immune Response to Diseases
The University of Virginia neuroscience lab that discovered that the brain connects directly to the immune system now has found evidence that doctors could load up the brain with custom blends of immune cells to battle genetic disorders and neurodegenerative diseases such as Alzheimer's.
The UVA researchers were able to "engraft," or establish, immune cells known as macrophages inside the brains of lab mice without the need for radiation. Until now, many scientists had believed this impossible – the damaging radiation, they thought, would be vital to allow the immune cells to travel past the brain's natural defenses.
UVA School of Medicine faculty collaborating on the study include Jonathan Kipnis, PhD, Chair and Professor of Neuroscience, and Director, Center for Brain Immunology and Glia, and Christopher Overall, PhD, Assistant Professor of Neuroscience.
Other UVA contributors include the following:
Scott Acton, PhD, Professor of Electrical and Computer Engineering
Antione Louveau, PhD, Research Scientist, Neuroscience
Igor Smirnov, DVM, Assistant Professor of Research, Neuroscience
James Cronk, a researcher with the Medical Scientist Training Program
Dylan Goldman, Graduate Student, Center for Brain, Immunology, and Glia
The findings have been published online by the Journal of Experimental Medicine.
Read more: https://www.news.virginia.edu/content/discovery-could-let-doctors-customize-brains-immune-response-diseases
• Innovative Approach to Neurodevelopmental Disorders Gets Major New Backing
Sanchita Bhatnagar, PhD, Assistant Professor of Biochemistry and Molecular Genetics, has received a $300,000 Hartwell Individual Biomedical Research Award for her work in neurodevelopmental disorders.
Bhatnagar says of her research, "I propose a novel therapeutic strategy to compensate for X linked gene deficiencies in young girls affected with NDD that will boost the expression of healthy genes from their dormant X chromosome and reverse the behavioral deficits. My approach is based upon my discoveries about X chromosome inactivation factors that regulate cell signaling and transcription; and how such factors, even in late stages of growth and development, can be controlled to reactivate the X-linked genes without detrimental effects on cell survival or proliferation."
Read more: https://www.news.virginia.edu/content/innovative-approach-neurodevelopmental-disorders-gets-major-new-backing#sthash.VOPsH82r.gbpl
—
Did we miss something? If you have UVA SOM faculty news to share, please email christa@virginia.edu.
Filed Under: Faculty News Weekly Round-Up, News