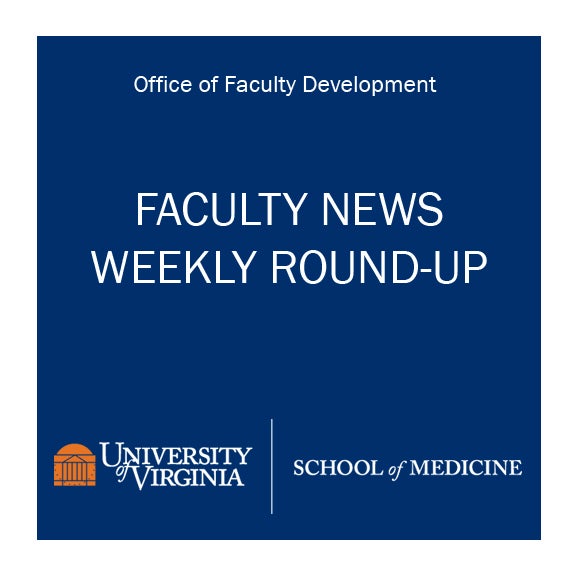 UVA SOM Faculty News Weekly Round-Up
March 30, 2018
• UVA Faculty Speak at Sixth Annual Women's Midlife Health Symposium
The Women's Midlife Health Symposium, held in Charlottesville on March 28, addressed " women's leadership, stress reduction, ethnic differences in maternal mortality and the impact of new blood pressure guidelines on women."
UVA President Teresa Sullivan, PhD, spoke at the symposium, as did numerous other UVA faculty, including the following:
JoAnn Pinkerton, MD, Professor of Obstetrics and Gynecology
Jef Ferguson, MD, Chair, Professor of Obstetrics and Gynecology
Brandy Patterson, MD, Assistant Professor of Medicine, Cardiovascular Medicine
Pamela Sutton-Wallace, MPH, CEO of UVA Medical Center
Read more: http://www.dailyprogress.com/…/article_38550122-32ce-11e8-a…
• Researchers Developing Drug Delivery Patches to Manage Pain Without Addiction Risk
Three University of Virginia researchers are working toward an innovative solution for treating lower back pain after surgery and for chronic back pain. They are developing drug delivery patches that would be worn on the skin, like a bandage, to deliver non-addictive pain medicine directly to the site of pain, rather than systemically via pills or injections. The work builds on UVA's expertise in orthopedics and pain management – and the engineering of very thin and flexible sensors and circuits.
"We want to relieve pain for patients while also reducing the use of potentially addictive opioids," said Joshua Li, MD. "Our goal is to help patients effectively participate in managing their own pain without fear of becoming dependent on medications."
Li has dual appointment as Associate Professor in the Department of Orthopaedic Surgery and the Department of Biomedical Engineering.
Li Jin, PhD, Assistant Professor of Research in Orthopaedic Surgery, and Baoxing Xu, PhD, Assistant Professor of Mechanical and Aerospace Engineering, are collaborating with Li.
Read more: https://www.news.virginia.edu/…/researchers-developing-drug…
• Straight Talk MD: Low Testosterone
Brandy Patterson, MD, Assistant Professor of Medicine, Cardiovascular Medicine, discussed low testosterone with NBC29.
Watch the video: http://www.nbc29.com/…/14…/straight-talk-md-low-testosterone
• After Decades of Work, UVA Launches Human Tests of Lung Transplant Drug
In the culmination of decades of research at UVA, doctors have begun human testing of a drug they hope will one day save many lives among lung transplant recipients.
The drug, regadenoson, is already commonly used to image cardiac patients' hearts. But the UVA research suggests it could be put to another, lifesaving purpose: battling ischemia reperfusion injury, in which tissue is damaged by the restoration of blood flow after it has been cut off.
The principal investigator of UVA's trial, Christine L. Lau, MD, Professor of Surgery, called ischemia reperfusion injury the "Achilles' heel of lung transplant."
"Ischemia reperfusion injury directly correlates to the development of chronic rejection, which is the reason why five-year survival in lung transplant recipients is only about 50 percent," said Lau, a surgeon. "Yet there really are almost no [other] clinical trials in lung transplant. This is our best hope."
Read more: https://www.news.virginia.edu/…/after-decades-work-uva-laun…
• NBC29 House Call: Monitoring Blood Pressure
Robert Carey, MD, Professor of Medicine, Endocrinology and Metabolism, discussed blood pressure with NBC29.
Watch the video: http://www.nbc29.com/category/126978/uva-house-call
—
Did we miss something? If you have UVA SOM faculty news to share, please email christa@virginia.edu.
Filed Under: Faculty News Weekly Round-Up, News