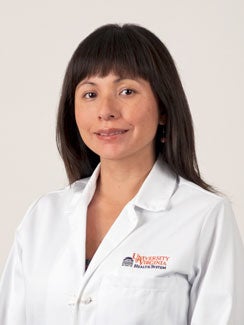 Meet Angie Nishio-Lucar, MD, Assistant Professor of Medicine, Nephrology at UVA School of Medicine.
This post is part of a series of interviews with new and junior faculty. Stay tuned for more interviews with your colleagues!
Q: How long have you been at UVA and where were you before you came to UVA?
I joined UVA as faculty during August 2013. Prior to that, I had been a fellow here for three years. I did my Internal Medicine residency in Detroit, Michigan. But, I am originally from Lima, Peru.
Q: Is there something that you've worked on or accomplished in your career that you're particularly proud of or glad you were able to experience?
Yes, becoming the medical director for living donor has been a fabulous experience. Our team is uniquely passioned and determine to grow. The number of living donor kidney transplants grew by 52% in just one year, from 2016 to 2017.
Q: When you were a kid, what did you want to be when you grew up?
At some point, very early on, I wanted to be a teacher. Then, a journalist or a novelist. I was a story teller. I used to write a lot, in Spanish though. Medicine did not occur to me until after I finished high school.  In Peru, you have to make a career decision at a very tender age. I was a little shy of turning 18 years old when I started my first (out of six) year of Medical School.
Q: A favorite spot to grab lunch during the day?
I am very proud to cook my own meals every day. So, buying lunch is a rarity. If I do, my favorite spot is Poke Sushi Bowl and I love to eat on the steps at the entrance of the old medical school.
Q: Do you have any children or fur babies at home?
I have a 20 month old daughter and 4 year old, almost 5, daughter. They keep me super busy but also bring me tremendous joy and love.
Q: Do you have a favorite local restaurant or hangout spot?
It depends, if we are out with the family, probably my 4 year old would say Tokyo Rose, as she gets spoiled there. If I can choose the place, it depends on the occasion, lately I have enjoyed Lampo or Alley Light for outings with my hubby.
Filed Under: Faculty Interviews, Interviews, Junior Faculty Interviews