This post is part of a series of reflections from tenured faculty. We asked them, "If you could go back in time, what piece of advice would you give yourself about the promotion & tenure process?" We hope their answers might be helpful to faculty currently working towards P&T!
Today's respondent is Peter Hallowell, MD, FACS, Director of Bariatric Surgery, Co-director MIS Fellowship, and Associate Professor of Surgery.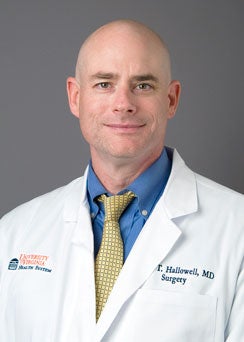 "Cultivating independent reviewers! It can be challenging to find independent reviewers who will answer the email from UVA.  Think of people whom you have worked on committees with, national meetings, etc.
Have colleagues or peers who have recently completed the promotion process review your portfolios. They will often point out additional activities that can enhance your portfolio.
Try to identify a mentor that can assist in the process.
Take time off to prepare your portfolio and paperwork…. it is more time consuming than you think!
Identify a good administrative assistant to help with the process!"
Thanks, Pete, for your reflections!
Filed Under: Faculty Interviews, Interviews, What I Wish I Had Known Before P&T