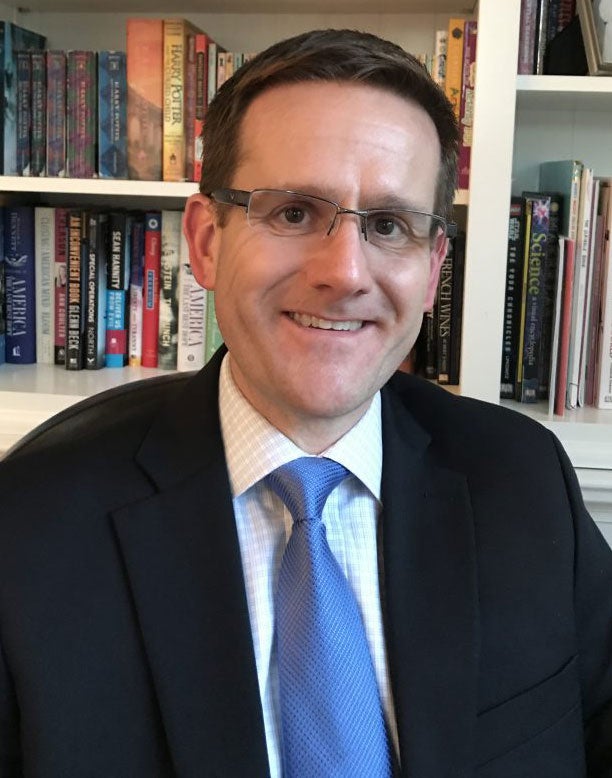 Meet Patrick Cottler, PhD, Assistant Professor of Plastic Surgery at UVA School of Medicine.
This post is part of a series of interviews with junior faculty. Stay tuned for more interviews with your colleagues!
Q: How long have you been at UVA and where were you before you came to UVA?
I came to UVA as a doctoral student in Biomedical Engineering in 1995.  My project involved the development of a device that Plastic Surgeons could use in the management of a condition called venous congestion.  Upon completion of my PhD in 2000, I started a company and secured funding to continue the development work on the project.  Through this time, I continued to subcontract with the Plastic Surgery Research Laboratory and work with the Plastic Surgeons as clinical consultants.  In 2004, I went to work for Luna Innovations, Inc., a small Virginia company that was expanding into the medical space and worked as a Senior Research Scientist for 10 years.  During this time, I had additional collaborations with the Department of Plastic Surgery.  In 2014, the opportunity arose for me to take over as the Director of the Plastic Surgery Research Lab, and it was one I could not pass up.
Q: Is there something that you've worked on or accomplished in your career that you're particularly proud of or glad you were able to experience?
See above.  The path I took as a graduate student in product development was not standard and was a bit of a risk.  That project propelled my career in a way I certainly never anticipated. Being able to wear the entrepreneur hat and start a company to continue working on a project that I built was an awesome learning experience.  Though, the product did not ultimately become commercialized, the experience has provided a research perspective that I try to demonstrate to the students and residents that I advise.
Q: When you were a kid, what did you want to be when you grew up?
I always loved math and science, but I honestly saw myself working with the land in some capacity.  I still get out in my yard as much as possible.
Q: A favorite spot to grab lunch during the day?
My wife is a professor in Biomedical Engineering, so coming back to UVA allows me to have lunch with her more often, though not often enough.  Being an exciting person, we typically eat in one of our offices for about 10 minutes.
Q: Do you have any children or fur babies at home?
I have two boys, Andrew (10) and Matthew (7). They attend the Charlottesville Catholic School and are in the 4th and 2nd grades respectively.  We are getting ready to start the spring baseball season where I will be getting the privilege to coach them again for the 6th season.
Q: Do you have a favorite local restaurant or hangout spot?
I enjoy food immensely and love trying new things and places. Living in Charlottesville for 23 years, I have seen restaurants come and go.  Last weekend, I was finally introduced to the Alley Light and will definitely be going back.  The explosion of craft beer halls has also been a wonderful thing to explore.
Filed Under: Faculty Interviews, Interviews, Junior Faculty Interviews