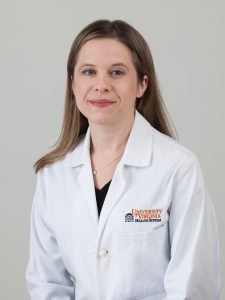 Meet Andrea Garrod, MD, Assistant Professor of Pediatrics at UVA School of Medicine.
This post is part of a series of interviews with new and junior faculty. Stay tuned for more interviews with your colleagues!
Q: How long have you been at UVA and where were you before you came to UVA?
I have been at UVA for 3 years.  I was here as an undergraduate and was very excited to be back.  Before I came to UVA, I spent 6 great years at the Children's Hospital of Pittsburgh.
Q: Is there something that you've worked on or accomplished in your career that you're particularly proud of or glad you were able to experience?
This past year, the pediatric residents awarded me the Gutgesell Teaching Award in recognition of excellence in outpatient education.  Teaching medical students and residents is one of the most gratifying parts of the job and it was a real honor to receive the award.
Q: When you were a kid, what did you want to be when you grew up?
A lawyer.  I loved a good debate.
Q: A favorite spot to grab lunch during the day?
Any Mexican restaurant.
Q: Do you have any children or fur babies at home?
My husband and I have 2 wonderful daughters.
Q: Do you have a favorite local restaurant or hangout spot?
My house.  The food could be better (because I'm the cook) but I'd rather hang out there with my family than be anywhere else.
Filed Under: Faculty Interviews, Interviews, Junior Faculty Interviews