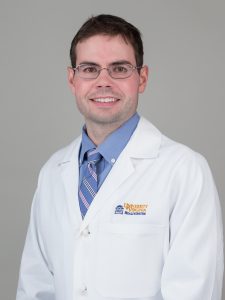 Meet John McNeil, MD, Assistant Professor of Anesthesiology at UVA School of Medicine.
This post is part of a series of interviews with new and junior faculty. Stay tuned for more interviews with your colleagues!
Q: How long have you been at UVA and where were you before you came to UVA?
I first came to UVA as a first-year undergraduate student in 1999, graduating with a Commerce degree in 2003 and later with my medical degree in 2010.
Q: What are you currently focusing on in your work?
I am currently working on expanding the third-year medical student clerkship rotation in anesthesiology to include more pre-operative and post-operative care, and also helping out with a departmental initiative to improve operating room efficiency.
Q: When you were a kid, what did you want to be when you grew up?
Growing up I wanted to be a mobile veterinarian that travelled around in a mobile home taking care of animals.
Q: A favorite spot to grab lunch during the day?
I've always loved Take It Away on the Corner – I recommend their Virginia ham on wheat bread.
Q: Do you have any children or fur babies at home?
I have a three-year old son who is obsessed with dinosaurs, particularly T. Rex!
Q: Do you have a favorite local restaurant or hangout spot?
Duner's in Ivy! Love their steak and seafood, and it was one of the first restaurants I took my now-wife to when we began dating.
Filed Under: Faculty Interviews, Interviews, Junior Faculty Interviews