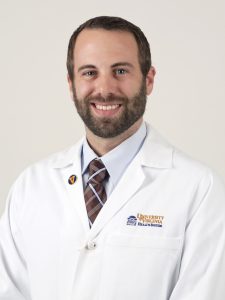 Meet Scott Sperling, PsyD, Assistant Professor of Neurology at UVA School of Medicine.
This post is part of a series of interviews with new and junior faculty. Stay tuned for more interviews with your colleagues!
Q: How long have you been at UVA and where were you before you came to UVA?
I completed my graduate studies at the Wright Institute in Berkeley, CA. My pre-doctoral internship took me to Chicago, where I specialized in Clinical Neuropsychology at the Jesse Brown VA Medical Center and the University of Illinois at Chicago. From 2011 to 2013 I completed my fellowship in Clinical Neuropsychology at UVA in the Department of Neurology. I then had the good fortune of being retained on faculty in Neurology, where I continue to work as an Assistant Professor.
Q: Is there something that you've worked on or accomplished in your career that you're particularly proud of or glad you were able to experience?
I have had the pleasure and good benefit of working with many bright and accomplished colleagues, within and outside of UVA Neurology. On the clinical front, I am particularly proud of the services our Memory and Aging Care Clinic provides to patients and their families dealing with neurodegenerative diseases. On the research front, our Memory Division has recently earned several federal grants aimed at improving Virginia's dementia capability. I am also proud to be a part of the clinical research efforts investigating the use of focused ultrasound technology in Parkinson's disease. That said, my most rewarding experiences often come through my roles as a clinical educator and Associate Training Director of our Clinical Neuropsychology Fellowship, wherein I have the privilege of working with many bright, compassionate, and dedicated trainees.
Q: When you were a kid, what did you want to be when you grew up?
Well, at first I wanted to be a giraffe. After being disillusioned of this impossibility, I developed aspirations of becoming a fighter pilot.
Q: A favorite spot to grab lunch during the day?
I am typically a "bring your sandwich from home" kind of guy. When I forget, Take It Away hits the spot.
Q: Do you have any children or fur babies at home?
I live with my smart and talented wife, Sarah. She supported me throughout my training and is the backbone of our family. Together we are the proud parents of two happy daughters, Sawyer (2) and Quinn (8 months). Sawyer is our too smart for her own good, spunky, daredevil. Quinn is our content and squishable child, who fortunately balances out Sawyer's energy.
Q: Do you have a favorite local restaurant or hangout spot?
What's more important than a good meal? There are no shortages of good restaurants in the area, but my wife and I are partial to Oakhart Social, Tavola, and Brasserie Saison. On the weekends, it is not uncommon to find us listening to music with the kids at Grace Estate Winery or taking in a pint at Three Notched Brewery with friends.
Filed Under: Faculty Interviews, Interviews, Junior Faculty Interviews