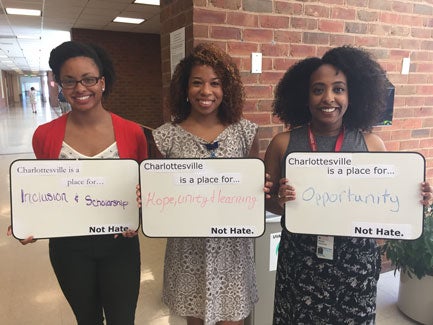 For the sixth year in a row, UVA School of Medicine has received the Higher Education Excellence in Diversity (HEED) Award. The award is given to health profession schools and measures an institution's level of achievement and intensity of commitment in regard to broadening diversity and inclusion on campus through initiatives, programs, and outreach; student recruitment, retention, and completion; and hiring practices for faculty and staff.
UVA School of Medicine is also one of only a few schools named by Insight into Diversity as a Diversity Champion.
In his most recent blog, Dean Wilkes highlights several of the School's diversity efforts:
Summer Medical Leadership Program. This six-week summer academic enrichment program brings together 30 college undergraduates interested in medical careers who are from disadvantaged backgrounds and underrepresented groups in medicine. The main goal is to expose participants to the "real world of medicine" to prepare them not only for admission to medical school but to assume future leadership positions in the medical field.
Partnerships with local schools. The School of Medicine hosts a Poster Symposium each year at Charlottesville High School to introduce high-school students — and future healthcare workers — to medical research. As part of their projects, students visit the UVA Claude Moore Health Sciences Library and are mentored by UVA research scientists.
Committee on Women. The committee promotes opportunities for mentoring and leadership for women throughout the School of Medicine, including an annual award honoring a faculty member for their leadership efforts.
Latino Health Initiative. In partnership with groups across UVA and the Charlottesville area, members work to improve health literacy, outcomes and access to care for local Latino residents. Ongoing projects include biweekly cardiovascular disease screening and education sessions, as well as training and empowerment for Latino community health workers.
Read more about diversity at UVA School of Medicine: https://med.virginia.edu/diversity/
View the list of HEED Award recipients: http://www.insightintodiversity.com/about-the-heed-award/2017-recipients/
Read more about Diversity Champions: http://www.insightintodiversity.com/diversity-champions/
Filed Under: News