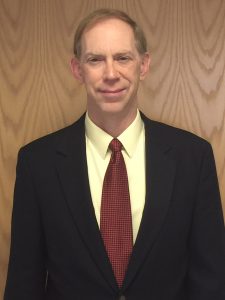 What resources does the Office of Grants and Contracts offer UVA School of Medicine faculty?
Stewart Craig, Assistant Dean for Research Administration, answers that question and more.
This post is part of a series of interviews with faculty and staff who offer resources to SOM faculty. Stay tuned for more interviews with your colleagues!
Q: Can you tell us about the services that the Office of Grants and Contracts offers to faculty?
We help faculty get research funding or get the materials they need to do research. We do that by helping faculty submit proposals to external agencies for funding and by negotiating agreements either to obtain funding, obtain the data or materials they need to do their research, or to collaborate with others.
On a daily basis, we receive a number of grant proposals that need to be submitted on a deadline to various granting agencies. We review those proposals for completeness and to ensure that the instructions from the potential sponsor have been followed. We also look at the science, to some extent, and we pay close attention to the budgets to ensure those are accurate.
At the end of the day, our collective goal with the faculty is to submit as strong a proposal as possible so that it has the best chance of being funded when it goes to the sponsor.
We see our role not just as making sure that all the boxes are checked, but as trying to add value to that process as a proposal goes out the door. Frequently that will mean, for the grant administrators on my team, working with the departments and the faculty during the early stage to help them develop their proposal.
The services provided by the contracts team include negotiating clinical study agreements, research funding agreements, materials transfer agreements, confidentiality agreements, and more. The contracts team is comprised of staff from the Office of Sponsored Programs, with whom we closely partner.
Q: If a faculty member has a grant that they're looking at applying for, is it helpful for them to contact you at the very beginning of the process, to get your input then, or at a later point?
Most of the faculty have access to experienced research administrators within their departments, and those are the first people that they should be working with. New faculty in particular can work with those staff to get the process started. Not only can they help the faculty prepare proposals, but they know how UVA operates and how to route something through the system to get it to my office and out the door. However, if it's a particularly complex proposal, or if the faculty member for whatever reason needs additional support, then the faculty member should get in touch with our staff early on in the process, so we can provide whatever support is needed.
Q: Is there anything that you would like to add before we move on?
As most faculty are aware, we've implemented a new deadline policy. It requires that proposal administrative components be in my office five business days ahead of the submission deadline, and the science likewise must be wrapped up two business days ahead of time. We did that not only to manage our work in a reasonable way, but also to give us time to provide input as we review the proposals.
We can push proposals out the door with minimal review, but that may mean that we're going to miss some things, or that we're not submitting the strongest possible proposal. What we want faculty and their departments to do is not just focus on the five days, but focus on a way of thinking and an approach that builds in more time so that their colleagues can weigh in on the science and the departments have ample time to prepare all of the materials.
It makes for a stronger proposal in the long run.
Q: How long have you been at UVA?
Since 2004.
Q: When you were a kid, what did you want to be when you grew up?
An astronaut!
Q: What changed?
You don't go to college saying you're going to major in research administration – in fact, most people don't know this field exists. I was going to be a chemist. I went to grad school, then changed my mind and decided I wanted to be a writer. I was a newspaper reporter for three years, and those were the three most fun years I had professionally – that was a great job.
I had an assignment to interview the president of a medical school. While I was talking with him, I said I was thinking of changing careers. He suggested grantwriting. I decided to apply for a grants administration position – that was 27 years ago.
Q: Do you have any children or fur babies that you'd like to tell us about?
My son is a rising second year at UVA. My daughter is studying commercial interior design in Florida.
Q: Do you have a favorite local restaurant or hangout spot here in Charlottesville?
Any restaurant with outdoor seating on the downtown mall.
Filed Under: Administrative Support Interviews, Interviews