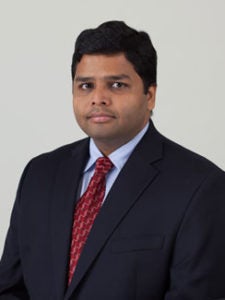 Meet Anuj Singla, MBBS, Instructor of Orthopaedic Surgery at the UVA School of Medicine.
This post is part of a series of interviews with new/junior faculty. Stay tuned for more interviews with your colleagues!
Q: How long have you been at UVA and where were you before you came to UVA?

I've been here at UVA for four years now. During my first year here, I was a fellow, and I've been faculty for three years now. Before that, I did a couple of fellowships in spine surgery and pediatric spine surgery. I'm from India, so I did my medical education and residency back in India, and I came here for the fellowship and stayed here as a faculty member.
Q: Is there something that you've worked on or accomplished in your career that you're particularly proud of or glad you were able to experience?

For me, the most important thing is that I am working with pediatric spine and adult spine. It is uncommon for people to have training in both, as they are considered two separate, distinct divisions. So, I am taking care of the patients on both sides. I can see how problems evolve from a very young child, as young as a newborn, to adults. I watch that transition, and I can see the changes in how they perceive their problems, how they expect solutions, how they manage the problems, and how they want physicians to be involved at what stage.
Q: A favorite spot to grab lunch during the day?
I like Indian food, so not many options here in Charlottesville!
Q: When you were a kid, what did you want to be when you grew up?
I always wanted to be a doctor. It was always in the back of my mind. There also was a time when I wanted to be a detective – that's why I try to explore answers to unanswered questions. I keep looking for the answers all the time.
Q: Do you have any children or fur babies at home?
I live with my wife and two kids. My wife is also part of the UVA Health System. She's in the anesthesiology department. I have a two-year-old boy and a six-year-old girl. Most of my day revolves around them, when I'm not at work.
Q: Do you have a favorite local restaurant or hangout spot?
I like to spend as much time with my kids as possible. In the springtime or summer, we will be at a sporting ground or a swimming pool. That is probably the most common place to find us when I'm not working or sleeping! For vacation, we like to go to a seaside area for water sporting activity.
Filed Under: Faculty Interviews, Interviews, Junior Faculty Interviews