Location: Education Resource Center 1240 Lee St.
Date: Nov 12, 2022 - Nov 12, 2022
Start Time: 8:00 am
End Time: 3:00 pm
Event Link
​The theme of the fifth annual Trainee Diversity and Inclusion Conference is Excellence in Action: Lifting As We Climb.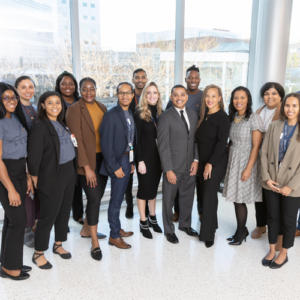 Keynote Address
Speaker: Bonnie Mason, MD, FAAOS, Medical Director of Diversity, Equity, and Inclusion, American College of Surgeons​ and Orthopedic Surgeon
Title of Address: "The Equity Imperative for Graduate Medical Education"
Featured Panelists and Moderators
Discussion Topic: Career Development and Harnessing Your Passions Outside of the Workplace
A. Rashard Dacus, MD, Orthopaedic Surgery
Leigh-Ann Webb, MD, MBA, Emergency Medicine
Arturo Saavedra, MD, PhD, Dermatology
Discussion Topic: Enhancing Resident and Faculty Well-Being through Systems and Culture Change
Max Luna, MD, Cardiology
Carrie Sopata, MD, Obstetrics & Gynecology
Michael D. Williams, MD, General Surgery
Karen Warburton, MD, Nephrology, Director of COACH
This conference is free and designed for medical students, GME Trainees, GME faculty, and staff.
More information and for registration go to Trainee Diversity & Inclusion Conference. 
For questions, contact RHCDIUVA@hscmail.mcc.virginia.edu.
Filed Under: Diversity, Equity & Inclusion, Events