Location: Claude Moore Medical Education Building
Date: Mar 22, 2023 - Mar 22, 2023
Start Time: 5:30 pm
End Time: 8:00 pm
Event Link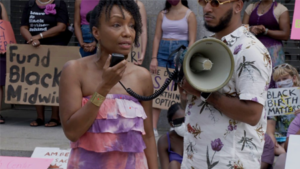 The University of Virginia School of Medicine's Office of Diversity, Equity, and Inclusion, Health Sciences Library, and University Physician's Group are hosting a screening of Aftershock, a documentary on Black maternal mortality and the Birth Justice Movement, on Wednesday, March 22 at 6:00 p.m., with dinner at 5:30 p.m.
The documentary shares the stories of two families who became activists in the U.S. maternal health space following the preventable deaths of their loved ones due to childbirth complications. "Through the film, we witness these two families become ardent activists in the maternal health space, seeking justice through legislation, medical accountability, community, and the power of art," says the filmmakers. Mental health care providers will be on-site to provide support to audience members.
The event is in person, but there is also a virtual option. Parking is available at McLeod Hall Garage at 202 Jeanette Lancaster Way, Charlottesville, VA 22903.
Go to the event link above to register by March 13.
For questions, please contact Ashley Woodard. 
Filed Under: Community, Diversity, Equity & Inclusion, Events