Location: ERC Conference Room A
Date: May 23, 2023 - May 23, 2023
Start Time: 5:00 pm
End Time: 6:00 pm
Event Link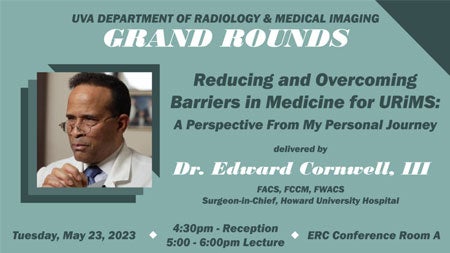 The Department of Radiology and Medical Imaging is pleased to announce our inaugural Diversity, Equity and Inclusion Grand Rounds, featuring renowned trauma surgeon Edward Cornwell III, MD. This special Grand Rounds event will be held in person and also broadcast via WebEx (see link below or click Event Link button).
Please feel welcome to forward this invitation and link to colleagues and/or trainees who might also be interested in attending. All are welcome.
Reducing and Overcoming Barriers in Medicine or URiMS: A Perspective from My Personal Journey
Tuesday, May 23, 2023
4:30pm – Reception
5:00-6:00pm – Lecture
ERC Conference Room A
WebEx: https://uvatelemed.webex.com/uvatelemed/j.php?MTID=m33ecf9009a27d144e72e6ca0fe5521b2
About the Lecturer – Edward E. Cornwell III, MD, FACS, FCCM
As one of the top trauma surgeons in the United States, Edward E. Cornwell saves the lives of hundreds of patients each year who come into the emergency room with gunshot wounds and other devastating injuries. Cornwell received his surgical training at the Los Angeles County University of Southern California Medical Center and his trauma/critical care fellowship at the Maryland Institute for Emergency Medical Services Systems in Baltimore, Maryland. He is former Professor and Chairman, Department of Surgery at Howard University Hospital and former Interim Dean, Howard University College of Medicine. Dr. Cornwell's career interest is in the prevention, treatment, and outcome disparities of traumatic injuries, and their critical care sequelae. Cornwell has received numerous awards and citations for his efforts in education, outreach, and violence prevention. He has received major teaching awards in every faculty position he has held, and was selected as the Commencement speaker at the USC School of Medicine in 1996, and at the Howard University College of Medicine in 2002.
Filed Under: Diversity, Equity & Inclusion, Events