Location: Zoom
Date: Feb 22, 2023 - Feb 22, 2023
Start Time: 8:00 pm
End Time: 9:00 pm
Event Link
The Department of Radiology & Medical Imaging is pleased to welcome Michael D. Dake, MD, Senior Vice President for the University of Arizona Health Sciences and Professor, Department of Medical Imaging, as the featured keynote lecturer.
As the head of the University of Arizona Health Sciences, Dr. Dake directs strategic integration of undergraduate and graduate education, research, operational services and clinical activities for all of the associated colleges, centers and clinical affiliates.
Joining Dr. Dake as featured panelists are:
Christopher "Cree" Gaskin, MD – UVA Professor of Radiology and Medical Imaging; Director of Musculoskeletal Imaging and Intervention; Department Vice-Chair of Clinical Operations and Informatics; and Associate Chief Medical Information Officer at UVA Health.
Michael Spaeder, MD – UVA Associate Professor of Pediatrics and Program Director for the Fellowships in Pediatric Critical Care Medicine and Pediatric Cardiac Critical Care Medicine
Christoph Wald, MD, Chair, Lahey Radiology; Professor of Radiology, Tufts University Medical School; and Chair, Informatics Commission at the American College of Radiology
Panelists will discuss how we prepare and transition the next generation of physicians to the use of precision medicine and data-driven healthcare decisions in routine clinical practice; how we incorporate new patterns of learning into our teaching methods; and how we adapt to the accelerating advances in technologies and data sciences that are challenging our current educational paradigms.
Colleagues from all specialties are welcome to join this session and discussion by Zoom.
For questions about this lecture, please contact Jordain Webb or 434- 924-9377 in the UVA Department of Radiology & Medical Imaging.
Sponsored by the Department of Radiology & Medical Imaging.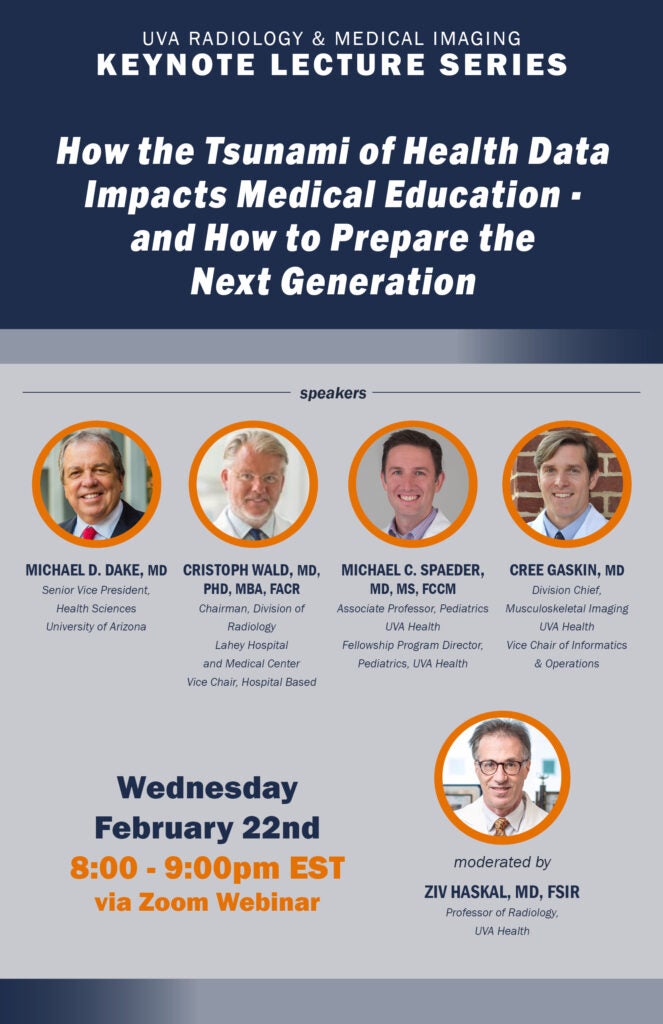 Filed Under: Events