Location: UVA Darden School of Business
Date: Dec 1, 2023 - Dec 2, 2023
Start Time: 6:00 pm
End Time: 3:30 pm
Event Link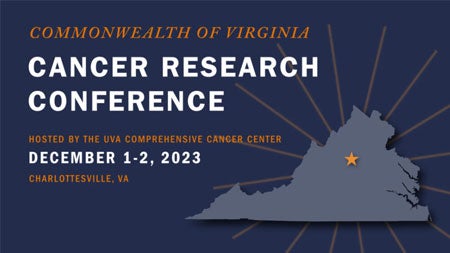 Elevate cancer research by joining us at the 2023 Commonwealth of Virginia Cancer Research Conference, hosted by the University of Virginia Comprehensive Cancer Center with keynote talks by Clayton Yates, PhD, John R. Lewis Professor of Pathology at Johns Hopkins School of Medicine, and Howard Crawford, PhD, Scientific Director of the Henry Ford Pancreatic Cancer Center.
Let's share knowledge, ignite innovation and foster collaboration. Shape the future by sharing your expertise and insights during engaging breakout sessions. We invite all innovators, experts and visionaries to register by October 11, 2023. Be a driving force in advancing science and unite for groundbreaking strides in cancer research.
For more information, contact Sonia Lyons.
Filed Under: Events