Location: Pinn Hall 1014 and virtual
Date: May 12, 2023 - May 12, 2023
Start Time: 12:30 pm
End Time: 1:30 pm
Event Link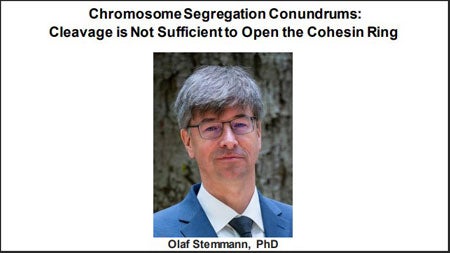 Cancer Center Seminar Series: "Chromosome Segregation Conundrum: Cleavage is Not Sufficient to Open the Cohesion Ring"
Speaker: Olaf Stemmann, PhD, Chair and Professor of Genetics, University of Bayreuth, Germany
Five Reasons to Attend this Seminar:
1. How is separase, the trigger protease of sister chromatid separation, regulated in the absence of securin?
2. Does the spindle assembly checkpoint (SAC) have targets other than the anaphase-promoting complex (APC/C-Cdc20)?
3. Shugoshin 2 protects Rec8-cohesin in meiosis – but what does it do in somatic cells, which do not express Rec8?
4. Cohesin provides a topological linkage between sister chromatids, yet the ring can be cleaved without falling off DNA. How is that possible?
5. HDAC8, the Smc3 deacetylase, can only act on soluble but not DNA-associated cohesin. Why then does its acute inhibition cause chromosome missegregation?
Lunch will be served from 12-12:30 p.m.
If you have questions or feedback, or if you would like to host a seminar in the future, please email Jane Heblich.
For more Cancer Center Seminars, visit UVA Comprehensive Cancer Center Seminar & Events. 
Filed Under: Events