Location: The Draftsman Hotel
Date: Apr 14, 2023 - Apr 15, 2023
Start Time: 7:00 am
End Time: 5:15 pm
Event Link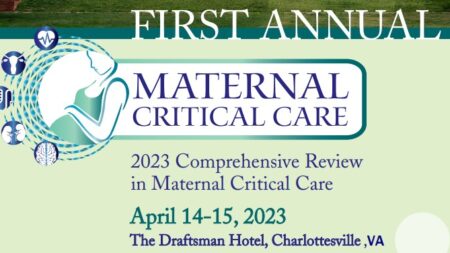 Course Description:
As a medical community, we were acutely faced with the implications of critical illness on maternal outcomes, pregnancy progression and fetal wellbeing when the COVID-19 pandemic taxed our knowledge, systems, and readiness to care for this complex specialty population. In this two-day course, we will provide the learner with a comprehensive review of maternal critical illness. Developed by a multidisciplinary team of experts in the fields of Obstetrics, Maternal Fetal Medicine, Obstetric Anesthesiology, Internal Medicine and Critical Care Medicine, this conference will promote a team based approach on maternal critical care topics using evidenced-based learning techniques incorporating adult learning theory. The main sessions will present an overview of maternal morbidity and mortality, common and unique obstetric emergencies, and how to build bridges between labor and delivery and the critical care units. Participants will have the opportunity to demonstrate clinical application during case-based teamwork activities and glean practical tips from expert petitioners. This course is designed for physicians, physician assistants, advanced practice nurses, ICU nurses, Labor and Delivery nurses, pharmacists, and all other healthcare providers with an interest in maternal critical care.
Sponsored by: Department of Anesthesiology, Department of Obstetrics and Gynecology, and Department of Internal Medicine. The distinguished faculty presenters at the conference are renowned experts selected to provide an interactive, multidisciplinary, and interprofessional educational program.
Course Directors: Mohamed Tiouririne, MD, UVA, Department of Anesthesiology and Michelle F. Dawson, MSN, AGACNP-BC, RN
Program Manager: Erica Ford, M.E.
Registration: www.cmevillage.com
Registration will close midnight on April 9, 2023. NO WALK IN REGISTRATION. The course syllabus will be available online only the week of the conference until 30 days after the conference.
PLEASE NOTE: Policies on cancellation, payment methods and accommodation requests can be found on our website under FAQs.
Additional questions, please contact uvacme@virginia.edu or 434-924-5310.
Full brochure may be viewed here.