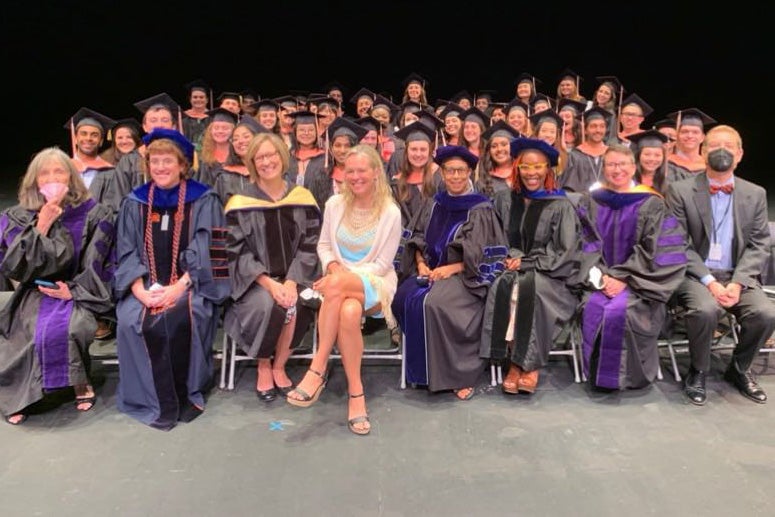 On Sunday, May 22, a total of 62 Master of Public Health and Master of Science in Clinical Research degrees were conferred by the UVA School of Medicine in an afternoon ceremony.
Some of the students' projects are highlighted below.
The Effectiveness of State Policies on Housing Insecurity and Homelessness during the COVID-19 Pandemic
This study examines the relationship between income, recent household job loss, and employment status on the confidence in ability to pay mortgage or rent next month in selected states by analyzing the US Census Bureau's Household Pulse Survey data from April 2020 to October 2021. The findings suggest that there is a statistically significant impact by state policies on confidence levels due to factors, such as income, recent household job loss, and employment status. Future considerations may include policy changes to mitigate housing insecurity and homelessness, such as extending eviction moratoria and policies for more comprehensive eviction protections.
Incremental Cost-effectiveness Analysis on Length of Stay of an Enhanced Recovery After Spine Surgery Program: A Single-center, Retrospective Cohort Study
This study investigates the costs versus benefits of implementing a program to protocolize care for patients undergoing spine surgery using an incremental cost effectiveness approach. The study was conducted at the University of Virginia and demonstrated that considering length of stay after surgery as the sole determinant of an outcome, standard care was the dominant cost-effective strategy compared to protocolized approach. This study has real world implications on institutions considering implementation of protocolized care, especially in the face of cost containment and patient benefits.
The Relationship Between E-Cigarette Use to Asthma Among Non-Hispanic Black High School Students: A Cross-Sectional Study
E-cigarette use is on the rise in children. According to the National Youth Tobacco Survey, from 2011-2018, e-cigarette use increased from .6% to 4.9% among middle school students and 1.5% to 20.8% among high school students. So, I wanted to see if e-cigarette use could be a determinant of asthma. The results from my analysis suggest that, among Non-Hispanic Black 9th-12th grade respondents, there is a statistically significant relationship between e-cigarette use and asthma. Therefore, e-cigarette smoking cessation should be a priority for policymakers when aiming to decrease asthma as a racial health disparity.
Telehealth Best Practices in Federally Qualified Health Centers During the COVID-19 Pandemic
My ILE project was based on the research I did with the Mid-Atlantic Telehealth Resource Center last year. I interviewed 3 Subject Matter Experts from almost 10 Federally Qualified Health Centers up and down the east coast to determine the best practices used when implementing telehealth during the COVID-19 pandemic. After rigorous analysis and qualitative coding methods, my ILE project highlighted the many ways that telehealth can be used to expand healthcare access for vulnerable populations in the U.S. and the best practices for implementing a telehealth program that will best serve these populations. Through my analysis and further literature review, it is clear that telehealth is the future of healthcare delivery.
Additionally, I used this data beyond my ILE project to help develop telemedicine "toolkits" and success stories for providers in different healthcare settings to reference when implementing a telehealth program of their own. UVA Health was one of the main models that was used to create these toolkits. These can be found at: https://www.matrc.org/regional-best-practice-toolkits/
Filed Under: Education