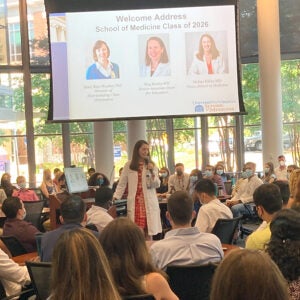 On August 3, 2022, the School of Medicine hosted a student orientation for the incoming Class of 2026. The students were welcomed by Dean Melina Kibbe, Senior Associate Dean for Education Meg Keeley, and Director of Matriculating Class Orientation Mary Kate Worden.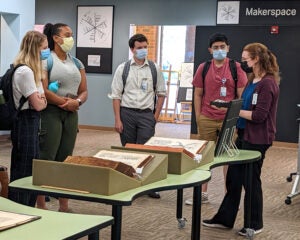 The medical students visited the Claude Moore Health Sciences Library where librarians Dan Cavanaugh and Emily Bowden shared rare books and artifacts from the Historical Collections. They discussed how, as future physicians, the students will contribute to the continuum of medical history. Karen Knight, a medical education librarian, reviewed resources the library offers to support their education. A highlight of the students' time in the library was their fitting for white coats.
The Class of 2026 will be welcomed at the 2022 White Coat Ceremony on August 12, 4:00 – 5:30 pm. For this ticketed event, register here. A link to this livestream ceremony can be accessed on the University of Virginia Medical Alumni Association website.
Filed Under: Education