Location: School of Medicine (MEB Auditorium or Pinn Hall Auditorium)
Date: Oct 3, 2022 - Oct 7, 2022
Start Time: 12:00 pm
End Time: 1:00 pm
Event Link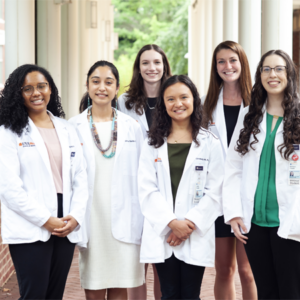 On behalf of the Generalist Scholars Program, you're invited to Primary Care Week 2022, October 3-7. This is a week of fantastic speakers, rich discussions, yummy (and free) food, and fun community outreach volunteer opportunities to give you an in-depth look at how wonderful and important primary care is! Each day we'll address a topic related to primary care. Especially important for the M1s, each lecture during the week counts towards your outside SIM requirements for the year, so you may want to consider attending a few! Check out the events below and see what might inspire you.
Monday, October 3rd
"The Role of the Primary Care Provider in Women's Health"
MEB Auditorium, 12-1pm, Roots for lunch.
Tuesday, October 4th
"Integrating Primary Care and Behavioral Health"
MEB Auditorium, 12-1pm, Panera for lunch.
and
Community Health Screening at the Salvation Army
with the Virginia Wellness Initiative
6-7:30pm, sign up to volunteer here.
Wednesday, October 5th
Diabetes and the Fragmented States of America (Medical Center Hour)
Pinn Hall Auditorium, 12-1pm, Bellair sandwiches for lunch.
Thursday, October 6th
Identifying and Responding to Human Trafficking
MEB Auditorium, 12-1pm, Fuzzies Tacos for lunch.
and
The Haven Volunteering Orientation
Zoom, time TBD
Friday, October 7th
What is Primary Care? Documentaries and Discussion
MEB Auditorium, 12-1pm, Mellow Mushroom for lunch.
More details go to the Primary Care Week website or look for one of our flyers around the School of Medicine. If you have any questions, please reach out to Stephen Oswald at zrz2ht@virginia.edu
Look out for more info to come, and we can't wait to talk about primary care with you!
Best,
Brianna, Emma, Lindsey, Mackenzi, McKenna, and Megan (GSP '25)