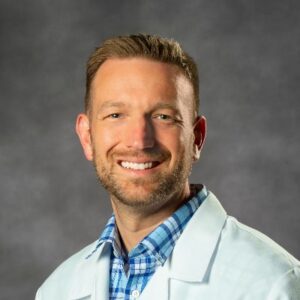 The School of Medicine Office of Educational Affairs is pleased to welcome Michael Ryan, MD, to the University of Virginia. As of August 1, he will serve as Associate Dean for Assessment, Evaluation, Research and Innovation, Director for the Center for Medical Education Research and Scholarly Innovation (CMERSI) and Professor of Pediatrics in the Division of General Pediatrics as a hospitalist. Dr. Ryan has most recently been on the faculty at Virginia Commonwealth University where he was the Barry V. Kirkpatrick, MD, Vice Chair of Education and Associate Program Director in the Department of Pediatrics and the Assistant Dean for Clinical Medical Education.
Dr. Ryan received his BS in biology and psychology from Virginia Tech and his MD degree from Loyola University Chicago – Stritch School of Medicine.  He completed residency training in Pediatrics at the University of Chicago Hospitals and Clinics and his Master in Education in Health Professions from Johns Hopkins University.  He is currently a PhD candidate in medical education at the School of Health Professions Education at Maastricht University, Netherlands. He was the first pediatric hospitalist recruited to start the program at VCU which  has grown to include 10 full-time faculty and a fellowship training program.  Dr. Ryan has received numerous awards for teaching excellence at local and national levels including the Academic Pediatric Association's national junior faculty teaching award. He has been elected to the Council on Medical Student Education in Pediatrics executive committee, the APA educational executive committee and has served as national faculty for the Advancing Pediatric Educational Excellence faculty development program. For the last two years, Dr. Ryan served as cross-continuum consultant for the Association of American Medical Colleges, serving as a representative for graduate medical education.
Dr. Ryan's research focus is on medical education, with an emphasis on competency-based medical education and entrustable professional activities.  He currently serves as chair for the competency-based medical education workgroup of the American Medical Association's accelerating change in medical education consortium.  He has published over 60 peer-reviewed manuscripts and has served as primary investigator for grant funding through the AAMC, the AMA and the Southern Group on Educational Affairs.  Dr. Ryan is nationally recognized as an expert in entrustable professional activities in undergraduate medical education and will be a valued addition to our program at UVA.
As Director of CMERSI, Dr. Ryan and his colleagues will serve as resources for faculty and trainees to receive input and support in developing and disseminating educational scholarly activity across the domains of teaching, curriculum development, leaner assessment, advising and mentoring.  The Center in cooperation with the Academy for Educational Excellence will continue to support research grants, fellowships and sponsor Excellence in Education Week in addition to professional development programming.