In recognition of Women in Medicine Month, we're honoring some of the women who have dedicated their careers to making a positive impact on the lives of patients, women who are furthering our efforts to deliver quality care, and women like Misky Sharif, who are shaping the future of healthcare.
Sharif is a fourth-year medical student at UVA School of Medicine, vice president of the UVA Student National Medical Association and the president of the Mulholland Society, which serves as the school's student government. She also has been the co-chair of the SOM's Wellness Steering Committee, education chair of the Inova branch of the Pediatrics Interest Group and a mentor in the UVA Summer Medical Leadership Program.
"I'm passionate about being in these amazing organizations as a way to pay it forward and give back," she says. "I would not be here today without the countless people who selflessly devoted their time and efforts to me. I am grateful for the opportunity to be helping these groups that are working tirelessly to build communities that can have a similar impact on someone else."
Get to Know Misky Sharif
Tell us about your childhood.
Sharif: I was born in Rockville, Md. We moved around a bit throughout northern Virginia during my childhood. However, I consider Leesburg, Va., to be my hometown.
My parents immigrated to the U.S. following the start of the Somali Civil War in the 1990s. Though growing up as a first-generation Somali American had its challenges, I am now grateful for both aspects of my identity because it has shaped who I am.
Why did you choose to pursue medicine as a career?
Sharif: My first exposure to medicine was as a child. I had been in and out of my pediatrician's office for various health ailments. In those moments, I did not know what medicine was or even if that is what I wanted to be when 'I grew up.' I just saw doctors as people who help others feel better, and I thought that was really cool.
As I grew older and started to decide what I wanted to major in college and what profession I wanted to pursue, I thought back on experiences that made me who I am. One of the things that continually came to mind was my experiences as a patient. I realized, though, that there was a difference between being interested in something and doing something as a career.
I started to explore the field of medicine more to gain a better sense of what a career in this field entailed. After lots of shadowing, interning at doctor's offices, and working as a medical assistant, I recognized this was the space that I wanted to spend my time. I was intrigued by how medicine merged art and science in helping a fellow human, oftentimes on their toughest days, and it was that human touch that solidified my decision to pursue medicine. I also wanted to be part of a field that was innovative and that challenged me, all of which medicine does.
The more time that I spent learning medicine, I realized there are many deep-rooted health disparities, which made me more passionate about pursing this career. I wanted to work toward mitigating some of those hurdles and to also serve as liaison between the medical field and communities — especially those that looked like me — in building trust, comfort, and understanding. I am excited to be pursuing a career in pediatrics to help children overcome their diseases or learn how to navigate their illnesses without letting it define their entire lives because the possibilities for their futures are endless.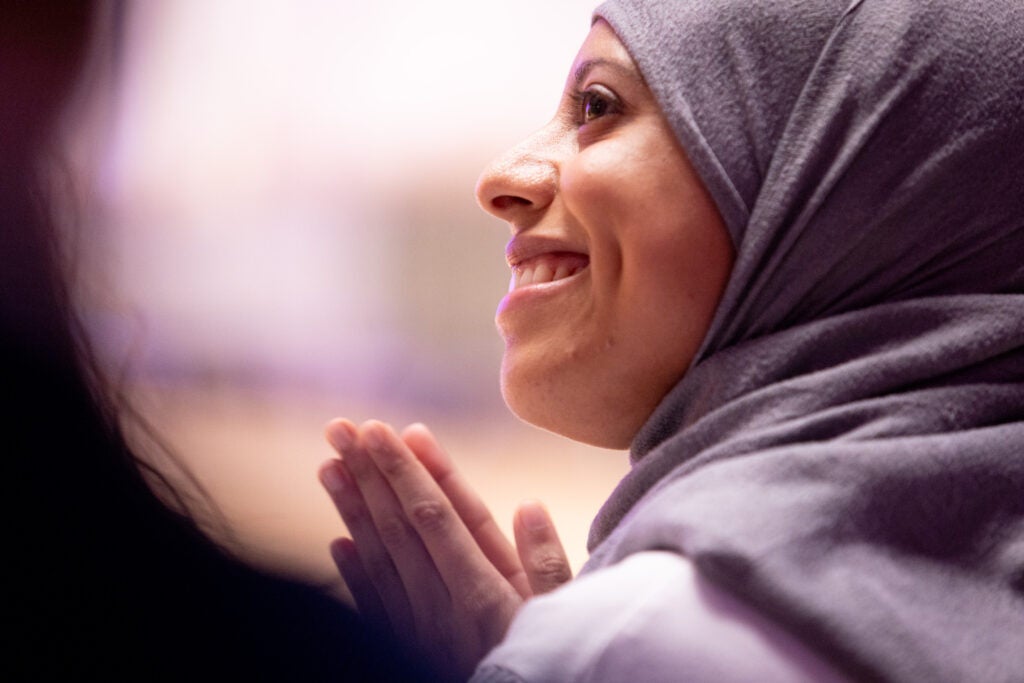 What brought you to UVA? 
Sharif: I know it may sound cliche, but it was truly the people. I remember when I first interviewed here in 2020 — right before the pandemic switched everything to a virtual format — I had some trouble finding my way to the Admissions Office. I was frazzled and nervous that I would be late to my interview. Unbeknownst to me, there was a third-year medical student who saw me in the hallway and recognized that I was lost. She not only walked me to the Admissions Office, but she also offered words of encouragement on our way there.
That one interaction was just a preview of all the interactions that I had with students and faculty during my interview day. They were all so kind, welcoming, and supportive. I knew that I wanted to learn in a collaborative community, so when I found that at UVA, I was immediately drawn. I was also excited about the opportunity to learn from faculty who are at the top of their fields in one of the best med schools in the nation. The pass/fail curriculum for pre-clerkships and the new satellite campus at Inova in Northern Virginia were all added bonuses. Though I dreamed to attend UVA, I didn't think I would get accepted. So when I received the acceptance later, I was shocked and incredibly grateful, to say the least.
How did you get involved in the Mulholland Society and what are your responsibilities as president? 
Sharif: My 'pockets of sunshine' have always been seeing others happy and reaching their goals. So when I arrived to Charlottesville at the start of my first year, I really just wanted to find ways to remind my classmates how amazing they were and also help the next person reach their dreams.
During my first year, I learned about the Mulholland elections by chance and became interested in the role of secretary to help build community amid the global pandemic. After spending more time in Mulholland, I learned about the goals and mission of the organization, which are centered around advocacy and community. This drew me to stay involved in various capacities over the last four years.
As president, I serve on several SOM and University-wide committees, and I chair the monthly Mulholland meetings. I also work on initiatives that help connect our main campus in Charlottesville to our regional campus in Northern Virginia. Though it may seem that I have a busy and important role, I truly believe it is our incredible Mulholland leaders and our incomparable student body who do the most important work in our organization. Our organization is a success because of them. My goal has truly just been to help them and advocate for them in whatever way that I can.
Who or what inspires you? 
Sharif: My mom. She immigrated to the U.S. in the 1990s with minimal English because of the civil war in Somalia. In the time since, she not only learned the culture and the language of this country, she instilled in her two daughters the importance of kindness and advocacy for all, especially for those who may not be as fortunate.
My classmates. The dedication they show daily in navigating the rigors of medical school simply to help treat and offer community to fellow humans who are often going through their toughest days is genuinely inspiring.
Our patients. They display such remarkable levels of resiliency amid incredibly challenging circumstances, and by doing so, they serve as a reminder on what is truly important in life.
Our deans and professors. They constantly go above and beyond in not only teaching us the fundamentals of medicine, but also looking out for us as to not lose our identities in the pursuit of our dreams. And I can say this as someone who deals with lots of self-doubt: when someone believes in you that much, it helps you keep pushing through the challenges.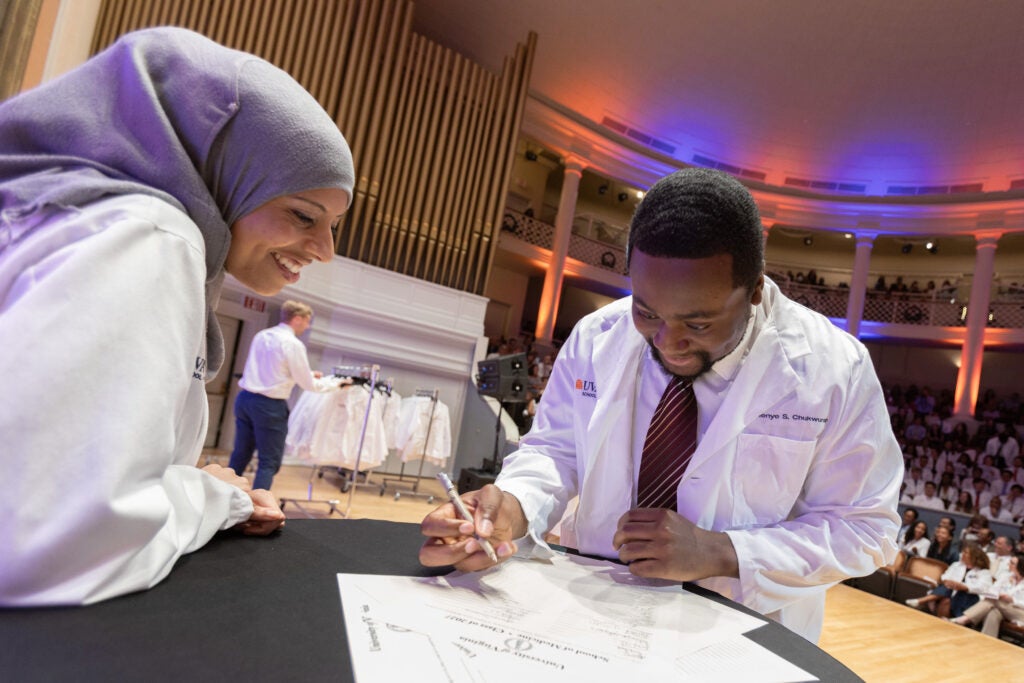 What advice do you have for other women entering the field of medicine? 
Sharif: I am not sure that I am experienced enough to be giving advice as I am still trying to find my footing. Rather, I would love to simply share a reminder to all our queens out there.  We need you. Your impact is boundless. You have the talents to succeed in ANY field, and we are so lucky that you chose to enter medicine. Thank you so much for being here.
Story authored by Holly Ford. Photos are by Coe Sweet.