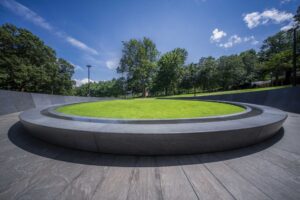 On Monday, June 20, the UVA School of Medicine will close to observe Juneteenth. This is the second year that the University has officially recognized the holiday. And this year, in a proud first for UVA Health, our UVA Medical Center and University Physicians Group clinics will close as well.
Celebrated by Black Americans for 157 years, Juneteenth (short for June 19th) is not the day that enslaved people were freed in the U.S., nor is it the day that slavery ended following the Civil War. Instead, it's the day in 1865 when enslaved Texans found out they had been free for more than two years following the Emancipation Proclamation.
Through the years, Juneteenth has become not only a time to commemorate the end of slavery in the United States but also to highlight the resilience, solidarity, and culture of the Black community. Juneteenth was recognized as a federal holiday on June 17, 2021 and it's a holiday we're proud to  celebrate annually at the School of Medicine.
A reflection of our commitment to upholding the dignity of all people and celebrating our diversity, we invite you to join us by participating in some of the Juneteenth events, speaker series, tours, and virtual offerings this month. Highlights include:
For even more events around the Commonwealth, go to virginia.org/juneteenthinvirginia.
Thank you for joining us to recognize this very important holiday.
Tracy Downs, MD
Senior Associate Dean for Diversity, Equity and Inclusion, UVA School of Medicine
Melina Kibbe, MD
Dean, UVA School of Medicine
Filed Under: Dean's Message, Diversity, Equity & Inclusion, Featured