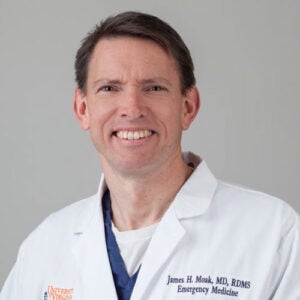 In September 2020, James Moak, MD, a faculty member in the Department of Emergency Medicine, began hosting Spanish Grand Rounds. This monthly, Zoom-based lecture series in Spanish was developed with the goals of advancing Spanish fluency by healthcare providers and encouraging education, collaboration, and transnational understanding between emergency care providers in the U.S. and the Spanish-speaking world. Guest speakers discuss themes relevant to the practice of emergency medicine, and answer questions from the audience. Translations of key words and phrases are provided real-time in the chat box during each talk.
Since the inception of this educational initiative, the Department of Emergency Medicine has seen an increase in fluent Spanish speakers recruited to UVA for emergency medicine residency training. Guest speakers from the UVA School of Medicine faculty have included Dr. Max Luna (Cardiology), Dr. Guillermo Solórzano (Neurology), Dr. Juliana Bueno (Radiology), Dr. Javier Provencio (Neurocritical Care), and Dr. James Moak (Emergency Medicine). The series has also featured speakers from Guatemala, Ecuador, and Mexico. Recent topics have included sepsis, traumatic brain injury, opiate addiction, congestive heart failure, and healthcare at the U.S.-Mexican border.
The next talk will be November 30, 2023 at 12 noon Eastern, when Peruvian emergency physician, Dr. Diego Grajales, will discuss "The Structure and Functioning of Emergency Services." For more information, please contact Dr. James Moak at james.moak@virginia.edu.
Filed Under: Diversity, Equity & Inclusion, Faculty