The Department of Biomedical Engineering (BME) held its second annual Emerging Leaders in Biomedical Engineering Symposium on Friday, September 1, at the Pinn Hall Conference Center. After a welcome address by Dean Melina Kibbe, Elizabeth Wayne, PhD, an assistant professor of Biomedical Engineering Department at Carnegie Mellon University, kicked off the symposium with a keynote entitled "Embracing immunodiversity: how investigating monocyte phenotype can improve nanotechnology design and efficacy." She described her latest findings and her career journey leading to her faculty position.
Dr. Wayne's keynote was followed by talks from five senior postdoctoral fellows: Roberto Matilla, PhD, from the University of Minnesota; Lexi Rindone, PhD, from Johns Hopkins University; Bishal Paudel, PhD, from the University of Virginia; Mykel Green, PhD, from the University of Texas Austin; Lydia Grmai, PhD, from the University of Pittsburgh, and senior PhD student Bryana Harris from the University of Virginia. The topics ranged from equitable approaches to biomaterial design for sickle cell disease to adipose tissue's role in reproduction.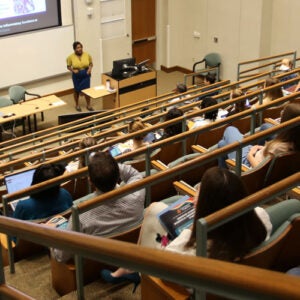 About 100 BME community members attended the event, which concluded with a career panel for BME graduate students. A fourth-year PhD student, Brayana Harris, who also presented her work at the event, said, "The Emerging Leaders Symposium was an inspirational way to end the week. I enjoyed meeting the speakers, learning about their diverse journeys, and getting advice on looking for postdoctoral fellowship positions. This symposium was not only a great experience as a speaker but as a student getting to share our community with BME scientists I and other students have admired for so long."
In addition to the keynote address and other presentations, graduate students enjoyed interacting with the participants during breaks and a stroll through the City Market at the IX park and downtown mall on Saturday morning.
The symposium was supported by a grant to Enhance Faculty Diversity, Equity, and Inclusion at UVA from the Provost's Office, School of Engineering Associate Dean of Diversity and Inclusion, School of Medicine Anderson Symposium Committee, and the Graduate Biomedical Engineering Society.
Filed Under: Diversity, Equity & Inclusion, Research