The Department of Biomedical Engineering (BME) held their inaugural Emerging Leaders in Biomedical Engineering symposium on Friday, November 18th, at the Pinn Hall Conference Center. Monet Roberts, PhD, who will start her assistant professor position in the Biomedical Engineering Department at Virginia Tech in January 2023, kicked off the symposium with a keynote entitled "A Motley Crew: Linking intratumoral heterogeneity to invasion and interstitial fluid flow in glioblastoma." She described her latest findings and her career journey leading to her faculty position. She also talked about her advocacy work in supporting students from historically marginalized communities and her plans for patient advocacy. Dr. Roberts' keynote was followed by talks from six senior postdoctoral fellows: Sophie Maiocchi, PhD from the University of North Carolina; Biafra Ahanonu, PhD from the University of California San Francisco; Ana Estrada, PhD from Yale University, Kelsey Kubelick, PhD from Georgia Tech; Omokolade Adebowale, PhD from Harvard University, and Tigist Tamir, PhD from MIT. The topics ranged from vascular drug delivery to image-guided cell therapies.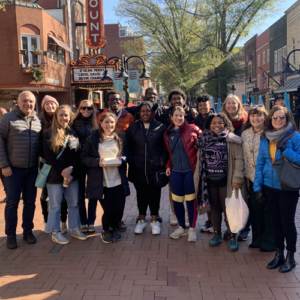 About 100 BME community members attended the event, which concluded with a career panel for BME graduate students. A fourth-year PhD student, Julie Leonard-Duke said, "After a hard week, the Emerging Leaders Symposium really brought us together as a community not only to celebrate the work of the invited speakers but to look forward to the future of BME and academia in general. I enjoyed getting to engage with the speakers in small groups during breakfast and dinner to talk about science, life at different universities, and advice for looking for a post-doc."
Graduate students also enjoyed interacting with the participants during breaks and a stroll through the City Market at the IX park and downtown mall on Saturday morning.
"The BME Emerging Leaders Symposium showcased exciting biomedical engineering innovations that are truly pushing the boundaries of biomedical research and revolutionizing how discoveries in the lab translate to novel biotechnologies for treating cancer, cardiovascular disease, pain, and other major medical problems. The presenters from institutions across the country, who are embarking on their own independent careers as scientists and engineers, gave an impressive and inspiring view of where the field of biomedical engineering is heading and the tremendous impacts it will have in the years to come!" ~Shayn Peirce-Cottler, PhD, Chair of Biomedical Engineering Department
The symposium was supported by a grant to Enhance Faculty Diversity, Equity, and Inclusion at UVA from the Provost's Office, School of Engineering Associate Dean of Diversity and Inclusion, School of Medicine Senior Associate Dean of Diversity and Inclusion, and the Graduate Biomedical Engineering Society.
Filed Under: Diversity, Equity & Inclusion, Research