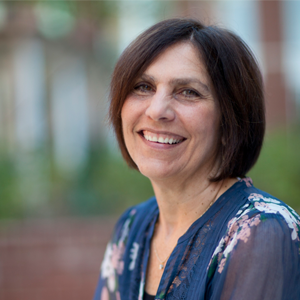 The 2022 inaugural session of a UVA Comprehensive Cancer Center program that hosts researchers from minority-serving universities for short-term summer research experiences is drawing praise from participants, and UVACCC hopes to build on its success in 2023.
The Short-Term Research Initiative for Visiting Educators in Cancer (STRIVE-C) program was initiated this summer to host researchers from historically black colleges and universities (HBCUs) for four weeks of summer collaboration on project- and methodology-based research. This year, STRIVE-C hosted researchers from Hampton University. The program is led by UVACCC's Associate Director for Education Dr. Amy Bouton.
STRIVE-C's primary goal is to cultivate long-term relationships by pairing visiting faculty from minority-serving institutions with UVA resources and faculty who have complimentary research interests. It was terrific to meet and to work with such wonderful colleagues from Hampton, and we're incredibly pleased with the program's success in its first year. ~Amy Bouton, PhD
This year's visiting faculty included Drs. Isi Ero-Tolliver, Dean of Hampton's School of Science; Jerald Dumas, Associate Professor and Chair of Department of Chemical Engineering; Juan Sebastian Yakisich, Assistant Professor of Pharmaceutical Sciences; and Brian Aufderheide, Associate Professor of Chemical Engineering. They were hosted by UVA faculty members Roger Abounader, MD, PhD, Associate Director for Basic Science at the Cancer Center and Professor of Microbiology, Immunology, and Cancer Biology; Steven R. Caliari, PhD, Associate Professor of Chemical Engineering and Associate Professor of Biomedical Engineering; Mohammad Fallahi-Sichani, PhD, Assistant Professor of Biomedical Engineering; and Nathan Swami, PhD, Research Professor of Electrical and Computer Engineering.
Dr. Dumas initially connected with colleagues in UVA's Department of Chemical Engineering during a 2021 seminar, and had planned to bring students on grounds for hands-on work when he learned of the opportunity to apply for STRIVE-C. "It was just a perfect storm," he said.
Working with Dr. Caliari and Assistant Professor of Chemical Engineering Dr. Lakeshia J. Taite, Dr. Dumas and Hampton undergraduate chemical engineering major Caleb Tyson researched development of polymers that could measure the activity of proteases, specifically synthesizing peptides that produce a fluorescent product when they degrade.
In the Abounader lab, Dr. Ero-Tolliver was introduced to different molecular biology techniques including using microRNAs to study mechanisms in brain cancer. Working with Dr. Swami, Dr. Aufderheide investigated cancer cell phenotypes detected by electrical impedance spectroscopy and dielectrophoresis fields. Finally, Dr. Yakisich's collaborative research in Fallahi-Sichani's lab involved high-throughput clonogenicity assays, combined with imaging techniques, to study a critical step of cancer metastasis using an in vitro model that partially simulates the process.
Drs. Ero-Tolliver and Dumas said STRIVE-C stands out among partnership programs for hosting faculty, and especially for the welcoming environment Dr. Bouton and her colleagues created.
"When you have a cordial, true relationship with the program directors and colleagues, that has a huge impact," Dumas said. "You can't always just go straight to the hard science. Like in life, you have to have a genuine relationship, and that's what STRIVE-C creates."
His work with Dr. Caliari and their students "put a mark on my research," Dr. Dumas said.
While Aufderheide's previous research focused on pharmacokinetic and pharmacodynamic modeling, Swami worked with Aufderheide using electrically functional microfluidic devices and instrumentation that are used for manipulation, sorting and cytometry of clinically-relevant biosystems.
"It was just fascinating picking his brain, and of course seeing all the experiments he's done," Aufderheide said. "There was a lot of overlap and a lot of insight that I found are very useful."
In Dr. Swami's lab, Dr. Aufderheide encountered a range of student disciplines he'd not yet encountered in one place: biology, chemistry, and electrical engineering, and, previously, physics and biomedical engineering.
"I've never seen a group so diverse. It was wondrous," Aufderheide said. "It shows you the nature of biomedical engineering, and I'm fortunate to have worked with researchers who brought so many different perspectives."
Dr. Swami, meanwhile, watched his own student researchers take on new roles as teachers and trainers of guest faculty and undergraduates, which he said fed the UVA students' enthusiasm.
"It helped them get excited about their work, and it showed them the impacts they can have, not just on the research and the problem, but also on people," Dr. Swami said.
"A program like this could be viewed as being just for other schools' gain. But in reality, dividends come back to UVA," Dr. Swami added. "It's something that should permeate all our research."
Visiting faculty also participated in dialogues with UVA trainees and faculty to share insights and experiences in career and professional development, research, teaching, and Diversity, Equity, and Inclusion.
Tracy M. Downs, MD, FACS, Senior Associate Dean for Diversity, Equity and Inclusion at the School of Medicine, said he hopes to see STRIVE-C grow and to serve as a model for future partnerships.
STRIVE-C represents the kind of investment needed to address disparities in both the medical professions, and in delivery of care. I'm confident STRIVE-C will help attract and support HBCU students toward graduate study, but its benefits also extend to research, and to the UVA community. ~Tracy M. Downs, MD, FACS
Thomas P. Loughran Jr., MD, UVACCC's Director, said his team is "thrilled" at STRIVE-C's success in its first year.
"We're deeply grateful to our colleagues at Hampton University for their partnership. This is a program that facilitates critical research, builds relationships, and supports students' career paths toward our shared goals of Diversity, Equity and Inclusion," Loughran said.
Dr. Ero-Tolliver is enthusiastic about recommending that colleagues apply to STRIVE-C, calling it "an opportunity for participants to create something new, or to further what they're currently doing."
"It really is an open space to design research the way you'd like, and UVA is invested in finding partners to help you," Ero-Tolliver said.
Aufderheide's advice to peer who consider applying: "Totally do it. There's no reason not to. It's a lovely thing and a win-win."
Dr. Bouton said that UVACCC plans to expand on this year's success going forward by reaching out to other minority-serving institutions and involving additional UVA faculty in these partnerships.
This year UVACCC achieved National Cancer Institute designation as a Comprehensive Cancer Center, which recognizes elite cancer centers with the most outstanding cancer programs in the nation. UVACCC is one of just 53 Comprehensive Cancer Centers in the country and the only one in Virginia.
Filed Under: Diversity, Equity & Inclusion, Faculty, Research