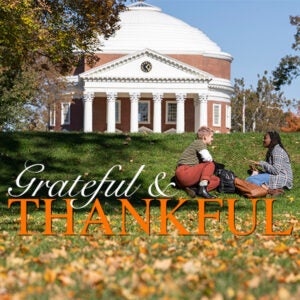 When I think about this past year, I feel immense gratitude and pride for how our wonderful School of Medicine has come together to serve our patients, community, and one another in pursuit of excellence in all mission areas. The unwavering commitment of our faculty, staff, trainees, and students to putting our patients first in all that we do continues to inspire me every day.
We've had an especially brilliant fall foliage season in Charlottesville this year. The beauty of the season has reminded me to pause in appreciation for our many remarkable accomplishments in 2023 and excitement for what lies ahead for our school. It is the passion and commitment of our people that improves our patients' lives and provides hope for the future.
As you enjoy time with your loved ones this Thanksgiving, I hope you will take a moment to appreciate all the gifts of the season and all that we have in this great country. Thank you for the vital role you play in the health and wellness of those around us. Have a safe and relaxing Thanksgiving holiday!
With gratitude,
Melina Kibbe, MD
Dean, UVA School of Medicine
Filed Under: Community, Dean's Message, Featured