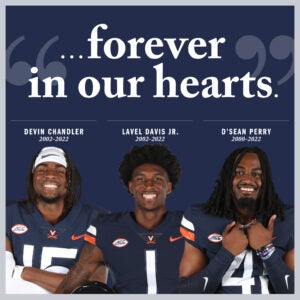 One year after the tragic deaths of Devin Chandler, Lavel Davis, Jr., and D'Sean Perry, we honor their memory with the following gatherings:
Nov. 10 at 11:30 AM to 1 PM, Old Cabell Hall
A space for meditation, speaking, listening, and connection. Participants are invited to sit quietly and reflect or voice their feelings, hopes, frustrations, and remembrances. FEAP and CAPS will be on site.
Nov. 13 at 11:30 AM-12:30 PM, Old Cabell Hall
A dialogue on Healing from Gun Violence, with A'Dorian Murray Thomas, Kevin Parker, Happy Perry, and Tracy Walls.
Nov. 13 at 12:30 PM, Fontaine Resilience Garden
UVA School of Nursing's Nursing Student Council and the Office of Admissions and Student Services will hold a 10- to 15-minute ceremony with brief remarks by Cathy Campbell, a hospice nurse and Buddhist chaplain.
Nov. 13 at 12:55 PM, UVA Grounds
A moment of silence. UVA's chapel bells will ring, followed by "Amazing Grace," and three single bell tolls. After the last toll, the observance will conclude. For those who cannot gather on Grounds, the moment of remembrance will be streamed live here: www.virginia.edu/live.
Nov. 13 at 2 PM-5 PM, 108 Cresap Road
An open house for faculty, sponsored by the Faculty Affairs Team in the Office of the Provost, to thank faculty for all that they have done to support students over the past year and to be in community and reflection with one another. Coffee and refreshments will be served. Free onsite parking available if it is too far to walk. •
On this anniversary, student support is available through Student Health and Wellness and TimelyCare. Emotional support is available to UVA faculty, staff, and their family members through the Faculty & Employee Assistance Program (FEAP).