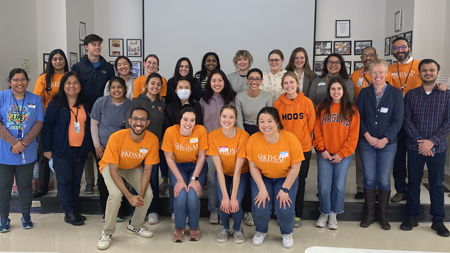 Tushar Chopra, MD, assistant professor in the Division of Nephrology of the Department of Medicine led the effort to conduct the first Kidney Disease Screening and Awareness Program (KDSAP) event at the Mt. Zion First African Baptist Church, Charlottesville, VA on March 25, 2023. The team screened 35 patients and identified a few patients with no prior knowledge of high blood pressure, hematuria, and/or proteinuria. The event was covered by NBC 29.
KDSAP was created and founded by Li Li Hsaio, MD, PhD at Harvard Medical School in March 2008 with key objectives of student career development and community outreach. This student run organization strategically targets undergraduate students early in their educational career to help address the current nephrology work-force shortage. It also aims to provide opportunities for community outreach to raise public awareness and promote early detection of chronic kidney disease screening in medically underserved communities.
Learn more about KDSAP and KDSAP chapters.
Filed Under: Community, Diversity, Equity & Inclusion