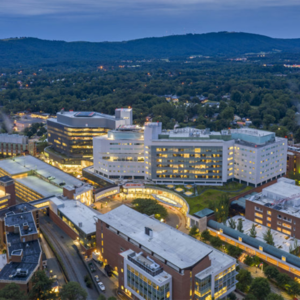 Amy Karr, UVA Health Foundation's senior associate VP for UVA Health Development and executive director, recently thanked all the School of Medicine partners who helped the foundation exceed an ambitious fundraising goal of $75 million in fiscal year 2022. The excellence of UVA Health colleagues across the patient care, research, education, and community and equity missions inspired over 9,000 alumni, grateful patients, friends, grant organizations, and industry partners to support your work. According to Karr, each gift, no matter the amount, is a meaningful expression of this support and a way to rally behind the UVA Health team.
UVA Health Foundation is particularly grateful to the department chairs, physicians, nurses, and other care team partners who helped connect us with grateful patients who have an interest in supporting the work of UVA Health. Because of these partnerships, gifts from patients totaled over $32 million last year, more than double the previous year.  Through giving, our patients find tremendous meaning and have the opportunity to honor the care teams that made a difference in their lives.  If you know of a patient who would like to make a gift, simply contact gratefulpatient@virginia.edu.
As UVA Health Development team continues to pursue support for UVA Health's mission of Transforming health and inspiring hope for all Virginians and beyond, they are grateful for your partnership and look forward to continuing on this journey with you.
For more information, contact:
Amy S. Karr
Senior Associate VP, UVA Health Development
Executive Director, UVA Health Foundation
askarr@virginia.edu or cell (434) 284-1088
Filed Under: Community, Philanthropy