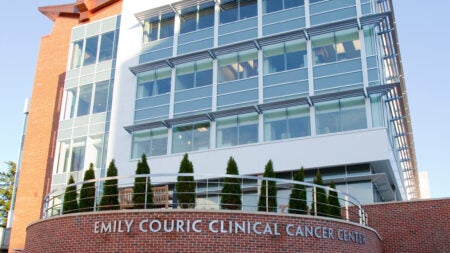 To reduce cancer's impact and enhance health equity, University of Virginia Cancer Center will award as many as five grants of up to $10,000 to support innovative, community-based projects that have the potential to improve cancer care and prevention.
The grants are available to community groups that work in the cancer center's service area of 3.2 million people. The service area includes eastern West Virginia and much of Virginia, including 87 counties that span from Southwest and Southside Virginia to Culpeper and portions of Northern Virginia.
The Comprehensive Community Grants program is open to community-based nonprofits, advocacy organizations, faith-based institutions, neighborhood committees, local municipalities, academic institutions and hospitals. Proposed projects should address cancer health education, prevention, early detection or survivorship. Projects focused on prostate cancer, health disparities and  priority areas identified by the UVA Cancer Center's Community Advisory Council  will be prioritized.
The grants program is part of UVA Cancer Center's mission as a National Cancer Institute-designated comprehensive cancer center to educate the public about cancer, improve screening, conduct innovative research and provide cutting-edge, high-quality cancer care. UVA Health is home to one of only 54 comprehensive cancer centers in the country.
"Community collaboration is essential to being a comprehensive cancer center," said Lindsay Hauser, director of the Office of Community Outreach and Engagement at UVA Cancer Center. "We welcome community input, feedback and innovative ideas to prevent cancer and enhance survivorship."
Filed Under: Call for Nominations, Community