Returning to work after parental leave is tough. You're dealing with a lack of sleep, separation anxiety and new routines. For lactating team members, there are the added challenges of pumping at work: lactation schedules, finding a private location and gathering necessary supplies. Thanks to the Spark Innovation Competition and the Lactation Improvement Project Team, UVA Health team members can now take care of this parental duty hassle-free in a space that's more convenient and better equipped to meet their needs.
Improving team members' lactation experience was one of six ideas selected for implementation by the Spark Project Team, led by neurologist Andrew Southerland, MD. Like all Spark Competition submissions, this project, initiated by Christie Schaeffer, MD, is about more than physical or procedural changes. It's about leveraging the wisdom, energy and dedication of our team members to bring positive change to our work environment and organization's culture in an effort to make UVA Health the best place to work.
For administrative fellow Khaing Phoo, MHA, this was an effort she was excited to lead. "As an administrative fellow, I was asked what I was interested in and how I would like to contribute to the Health System. This was an easy choice for me because I'm very passionate about cultivating a supportive and inclusive culture," she says.
There was a lot of excitement and support for this project across the Health System. "We have had help from many team members — from our frontline team members to our leaders," says Phoo. "A huge shout out to our teams in Facilities Management, Children's Hospital, Breastfeeding Medicine Program, Health Information and Technology, human resources, graduate medical education, and current users of the lactation rooms. Without their amazing support, we would not have successfully turned this idea into reality."
New and Improved Lactation Spaces
In just six months, this team has accomplished a lot. They've made significant updates to the 20 lactation spaces located in the Health System, adding the following amenities:
Side tables for lactation supplies in all rooms
Full-length mirrors in 17 rooms
Computers in nine rooms
VOIP phones in six rooms
Mini refrigerator in one room
New chairs, divider and privacy curtain in one room
Gender-neutral signage on all rooms
Please see below for the new and improved G441 lactation room that is near the inpatient pharmacy window.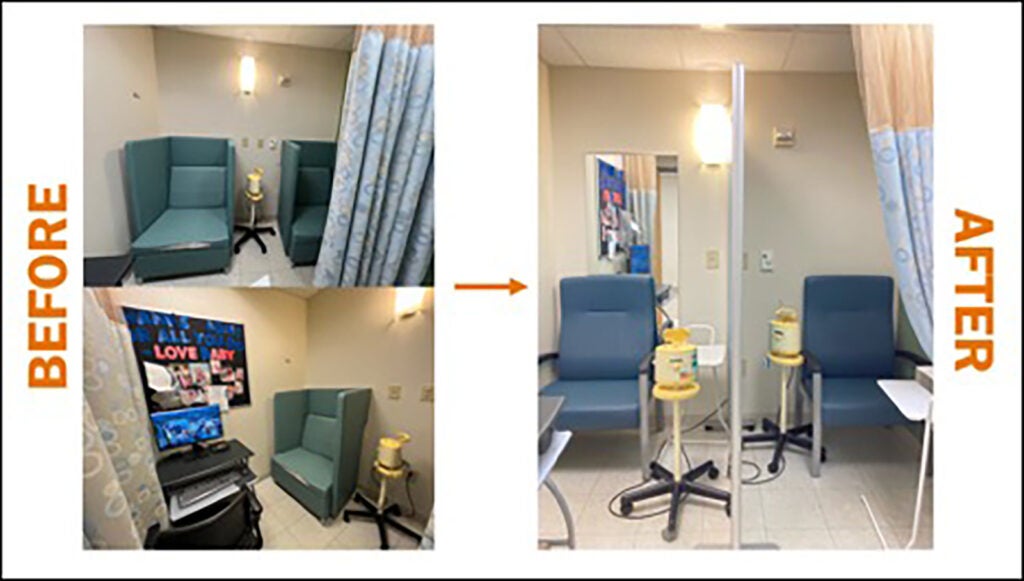 Stay tuned for the next phase of the project, which will focus primarily on scheduling. Collaborating with Claude Moore Health Sciences Library, the team is working to roll out an on-demand scheduling site to allow team members to reserve the space and check on availability.
To further support lactating parents, this effort will also include strategies to raise awareness among our team members about resources available, such as:
A CBL module for leaders to stay up to date on lactation benefits and resources available
Developing policy/guidelines to provide more support for lactation at UVA Health
Listing all available resources on the HoosWell website
Curating a resource document for leaders to aid with initiating conversations about lactation accommodations
We Want to Hear from Lactation Room Users!
Becoming the nation's leading public academic health system and best place to work begins with empowering our team members. Let your voices be heard about how we can continue to improve the lactation room usage experience! Please share your feedback by taking this short survey to help us continue to foster a culture of innovation and further our goal to become the best place to work for all.
Visit the Spark website to learn about the other Spark ideas being implemented, and stay tuned for details on the next Spark Competition launching later this year. The theme: improving the research environment.
Lactation Improvement Project Team Members
Corinne Clasbey, MBA SHRM-CP
Diane Farineau, MS
Hannah Fitzhugh, MSc
Kevin Fox
Ann Kellams, MD, IBCLC
Katie Marsh, MD, MPH
Lauren Purnell, MBA
Karin Skeen, PhD, RN, NEA-BC
Merica Shepherd, SHRM-SCP
Gloria Smith
Kelsey Sullivan, MD
Sarah Patterson, MA, EP-C
Khaing Phoo, MHA
Adam Weikel, MA
Katie Zecha, RN, IBCLC
Article by Holly Ford.
Filed Under: Community