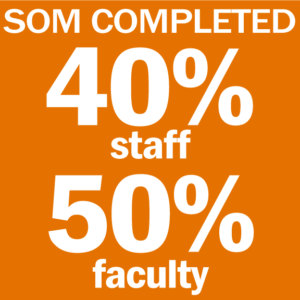 Thank you to the 40% of staff and 50% of faculty who have already completed their 2022 UVA Health Engagement Survey.  The survey is open through November 11, so employees still have time let their voices be heard.
The 2022 UVA Health Engagement Survey is an important opportunity for every team member to reflect and provide direct feedback about how we are succeeding and where we have opportunities to be even better. Your thoughtful and candid responses will help set us on a course for transformational change. Following are some important facts about this year's survey.
Your comments are confidential.
All team members, with the exception of School of Medicine faculty, will participate in a survey administered by Press Ganey.
UVA School of Medicine faculty will participate in the Association of American Medical Colleges' Standpoint Faculty Engagement Survey.
To take the survey, staff should check email for personalized invitations from Press Ganey. Faculty received an email with a survey link from AAMC Standpoint.
Thank you for sharing your voices and essential input as we work to achieve our bold new vision to be the nation's leading public academic health system and best place to work.
Read more about the survey and see answers to frequently asked questions here https://hr.virginia.edu/2022-uva-health-engagement-survey
Filed Under: Community