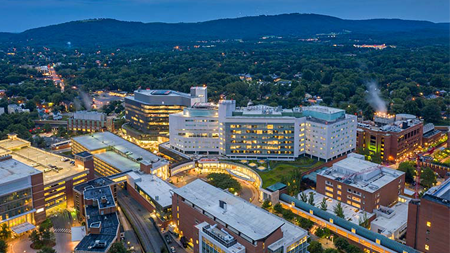 University of Virginia Medical Center is ranked as the No. 1 hospital in Virginia and in the top 50 hospitals nationally in Newsweek's "World's Best Hospitals 2023" guide.
The news magazine rates UVA as the No. 42 hospital in the United States and among the top 250 hospitals in the world in this year's guide.
"Among the hallmarks of great hospitals, however, are not just first-class care, first-class research and first-class innovation. The very best institutions also share another quality: consistency," wrote Nancy Cooper, Newsweek's global editor-in-chief, in her introduction to this year's guide. "The world's best hospitals consistently attract the best people and provide the best outcomes for patients as well as the most important new therapies and research. Of all the hospitals in the world, relatively few can do all those things year in and year out. The best belong to a very exclusive club."
Craig Kent, MD, UVA Health's chief executive officer and UVA's executive vice president for health affairs, said the rankings reflect the health system's continuous efforts to enhance patient care.
"Our entire team at UVA Health is committed to transforming health and inspiring hope for the patients we serve not just across Virginia but across the U.S. and beyond," he said. "I am so proud to see their incredible work recognized."
Newsweek's ratings criteria include recommendations from more than 80,000 medical experts in 28 countries, results from patient-experience surveys and measures of high-quality care and patient safety.
"Everyone on our team puts patients at the center of all we do," said Wendy Horton, PharmD, MBA, UVA Medical Center's chief executive officer. "I am inspired every day by their commitment to serve our patients and provide high-quality, compassionate care."
Article written by Eric Swensen, Public Information Officer, UVA Health.
Filed Under: Community