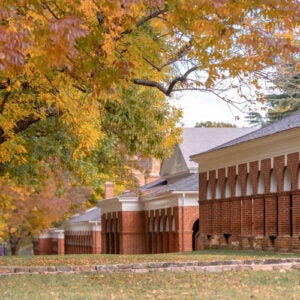 UVA is offering educational programming to provide faculty, staff, students and our community opportunities to learn more about the ongoing conflict in the Middle East. A few upcoming events are listed below, with more programming available soon.
Thursday, Nov. 2, 9 a.m.: "Colliding Crises: The Israel-Hamas Conflict, the War in Ukraine, and Geopolitics"
Online only, registration required – In this live webinar discussion convened by UVA's Miller Center of Public Affairs, experts in history, political science, economics, law, and diplomacy from across the University of Virginia join veteran government practitioners to discuss the array of world crises now challenging 

American policymakers. 
Friday, Nov 3, 12 p.m.: "Understanding Global Conflicts and Exploring Possibilities for Peace: A Dialogue With Professor Paul Martin"
Great Hall in Garrett Hall – This lunch and learn session will consider what lessons can be gleaned from historical perspectives on conflicts elsewhere in the world.

Thursday, Nov. 9, 1 p.m.: "Democracy Dialogues: Free Speech at Universities"
Rotunda or online, registration required – Presentation will look at how free speech relates to academic freedom at universities, examining different perspectives on whether and how to protect all forms of speech on college campuses and demonstrating the importance of having deliberative dialogue around free speech issues in education.
Read the full story in UVA Today. 
Filed Under: Community