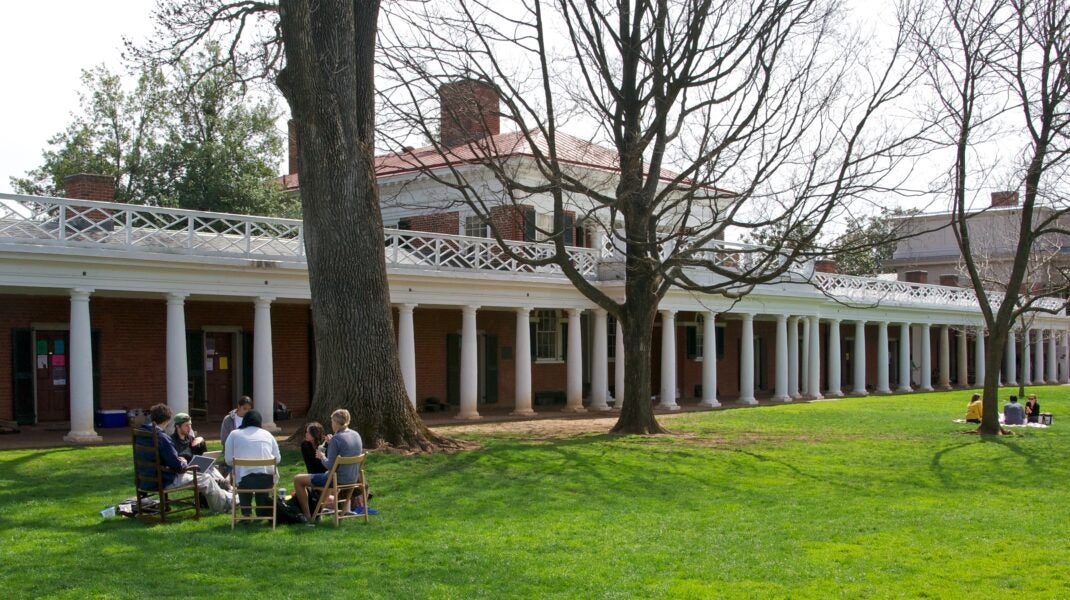 Junior faculty can apply (by 5/15) to lease the second-floor apartment in Pavilion VIII.
Applications
The Board of Visitors is seeking applications to lease the second-floor ("upper") apartment in Pavilion VIII for up to a five-year term commencing summer 2022.
Pavilion VIII contains two apartments, one on the second floor and another on the garden level. The first floor of the Pavilion houses classrooms, and the garden level has the student-run University Guides office with their own entry and restroom in addition to the lower apartment (not currently available for lease). The upper apartment includes two to three bedrooms, one bathroom, a living room, a kitchen, and a large dining room. The entire Pavilion was renovated in 2022. (Pavilion VIII video tour)
Assignment is subject to the Board of Visitors' Pavilion Policy, which states as follows:
Junior faculty shall be encouraged to apply for the two Pavilion VIII apartments. The process for selecting tenants for these apartments was devised by the Provost's Office and shall be administered by the committee described in I.b. As with other Pavilion residents, applicants for the apartments must be willing to have frequent interaction with their student neighbors and to participate fully in the life of the Lawn.
Residents must use the Pavilion VIII apartment as their primary residence.
The Pavilion Assignment Committee, chaired by the Secretary to the Board of Visitors, will consider the applications of full-time teaching and research faculty. To apply, please send a curriculum vitae and a statement about your interest in residing on the Lawn. The Committee will consider all applications and make a recommendation to the Board of Visitors at the June meeting of the Board.
The deadline for applying is May 15, 2022. Please send applications by messenger or U.S. mail to:
Susan G. Harris, Secretary to the Board of Visitors
P.O. Box 400222
Charlottesville, Virginia
22904-4222
Or by e-mail: sgh4c@virginia.edu
Filed Under: Community