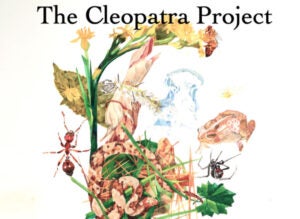 To help Virginians avoid poisonings from encounters with wildlife, a reference guide to 32 poisonous and venomous animals that live in Virginia is now available as a free, downloadable book.
"The Cleopatra Project – Poisonous and Venomous Animals in Virginia" is filled with full-color photographs and written to be an easily read, valuable reference for parents, educators, healthcare providers and the general public.
The book is a collaboration between the Virginia Master Naturalists – a statewide corps of volunteers providing education, outreach, and service dedicated to the beneficial management of natural resources and natural areas within their communities – the Blue Ridge Poison Center at UVA Health and the UVA School of Medicine's Division of Medical Toxicology.
Work on the book began in 2021 as a response to the hundreds of exposures to poisonous and venomous animals reported annually in Virginia. Encounters between these animals and humans typically occur when an animal reacts to an unexpected disturbance or to a perceived threat. Each document entry includes a description of the animal, its habitat and likely geographic range in Virginia, the source of poison or venom, potential physical symptoms and possible animal "look-alikes."
The Cleopatra Project is now available at med.virginia.edu/brpc/the-learning-center/the-cleopatra-project/. It joins a companion book, "The Socrates Project – Poisonous Plants of Virginia," which describes the 25 poisonous plants that grow in the wild in Virginia and can be downloaded at med.virginia.edu/brpc/socrates.
Filed Under: Community