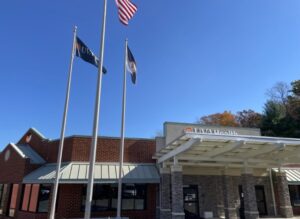 UVA Health Surgical Care Riverside has been named to Newsweek's list of "America's Best Ambulatory Surgery Centers 2024" based on patient outcomes and recommendations from healthcare professionals.
The 17,000-square-foot surgery center on U.S. 29 in northern Albemarle County serves patients who typically return home the same day. It features four state-of-the-art operating suites and a procedure room.
UVA Health Surgical Care Riverside is ranked eighth in Newsweek's South region, which includes Virginia, West Virginia, Alabama, Kentucky and Oklahoma.
"Our 10-year strategic plan emphasizes both access to care and quality care," said K. Craig Kent, MD, chief executive officer of UVA Health and executive vice president of health affairs for the University of Virginia. "Our team at UVA Health Surgical Care Riverside exemplifies both of those pillars, and it's rewarding to see their dedication recognized with this honor from Newsweek."
Newsweek's rankings include a national survey of medical professionals that asked for recommendations of notable ambulatory surgery centers in their state and to rate those recommended centers on four measures:
quality of surgical care
quality of follow-up care
managing the COVID-19 pandemic (such as safety and hygiene measures)
management of waiting time
Newsweek also based its rankings on quality and patient outcomes data for more than 5,000 ambulatory surgery centers nationwide provided by the U.S. Centers for Medicare & Medicaid Services.
"Our team at UVA Health Surgical Care Riverside is committed to providing high-quality care for our patients," said Joseph Hulsebusch, MSHA, BSN, RN, CGRN, director of outpatient surgery sites for UVA Health. "It's wonderful to see them recognized for a second consecutive year as one of America's best outpatient surgery centers."
Filed Under: Clinical, Community, Media Highlights