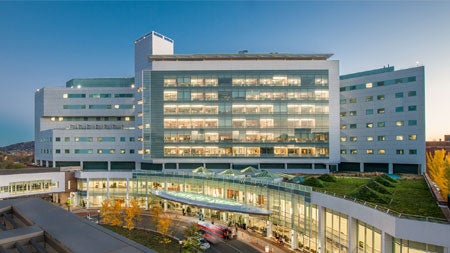 UVA Health has been named a "best in class" health system in Virginia for its cancer, heart, orthopedics, neurology and digestive health care by WebMD and Medscape.
The 2023-24 WebMD Patient Choice and Medscape Physician Choice awards are based on surveys of consumers and healthcare providers that asked which health systems provide "the best overall quality and treatment capability." UVA Health was selected as a leading Virginia health system by both consumers and healthcare providers in all five specialties surveyed by WebMD and Medscape.
"Building destination programs for patient care is a core component of our 10-year strategic plan," said K. Craig Kent, MD, chief executive officer for UVA Health and UVA's executive vice president for health affairs. "Seeing our high-quality care commended by both patients and healthcare providers is especially heartening, and I thank our team members for the hard work that earned these honors."
Within the five specialty areas surveyed, UVA Health and UVA Cancer Center were selected by patients as a leading Virginia health system in 23 conditions or treatments – more than any other health system in Virginia. UVA Health Neurology was further honored with the WebMD Elite Choice Award, which recognizes health systems preferred by patients and care providers by a 2-to-1 margin over other health systems in their region.
Here is the full list of awardees from UVA Health:
Cardiology: angioplasty and heart valve replacement
Gastroenterology: colorectal surgery, hernia repair, stomach cancer and GERD surgery
Neurology: back pain relief surgery, brain surgery, microdiscectomy, spinal surgery and sleep disorders
Oncology: blood cancer, breast cancer, colorectal cancer, lung cancer, prostate cancer and skin cancer
Orthopedics: arthroscopy, hip replacement, knee replacement, rotator cuff repair and spine surgery
Along with the honors from Medscape and WebMD, UVA Cancer Center's excellent patient care and groundbreaking research has earned it the prestigious Comprehensive Cancer Center designation from the National Cancer Institute. UVA is one of only 56 Comprehensive Cancer Centers in the country.
UVA Health Orthopedics – also recently named among 100 great orthopedic program by Becker's Hospital Review – now sees patients at one of the nation's largest outpatient orthopedic centers, a 200,000-square-foot, state-of-the-art facility on Ivy Road in Charlottesville near the intersection of U.S. 29 and U.S. 250 that brings comprehensive orthopedic services in a single, convenient location.
Filed Under: Clinical, Honors & Awards