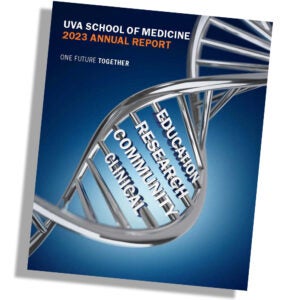 The University of Virginia School of Medicine 2023 Annual Report will be distributed to alumni, SOM faculty, and top-rated SOM deans and leadership across the U.S. next week. Our mission to transform health and inspire hope for all Virginians and beyond continues to guide our efforts across four specific pillars: patient care, research, education, and community engagement.
Our team's commitment to providing high-quality, compassionate care is inspiring. Newsweek named our medical center No. 1 in Virginia and No. 42 in the country! U.S. News & World Report ranked our Children's Hospital No. 1 in Virginia for the third year in a row, and nine out of 10 pediatric specialties ranked top 50 in the country. The pioneering work of our focused ultrasound team to treat patients with essential tremors was highlighted when Dr. Sanjay Gupta, CNN chief medical correspondent, visited UVA Health to film an episode for Vital Signs.
With respect to research, we had an unprecedented 27% increase in research funding: from $226 million to $286 million. This level of growth in research in one year reflects the hard work of our existing physician-scientists throughout the School of Medicine and has a profound impact on improving the lives of patients and their families. Furthermore, UVA received a landmark gift from Paul and Diane Manning. With additional support from the Commonwealth, UVA, and UVA Health, this gift has catalyzed the commitment to build the Paul and Diane Manning Institute of Biotechnology, which should break ground by year's end.
Our educational mission remains a strength, too. Our innovative and transformational programs attract the brightest and most talented learners. For the tenth consecutive year, our Graduate Medical Education program—which trains our residents and fellows—was re-accredited by the ACGME without a single citation. And every year, our incredible medical and graduate students make a difference in our community by volunteering at nonprofits across Charlottesville.
We are also proud to continue to serve our communities. The U.S. Department of Agriculture awarded a $5.1 million grant to the UVA Karen S. Rheuban Center for Telehealth, which will revolutionize rural healthcare via telemedicine. We also launched a new Center for Health Equity and Precision Public Health to improve the health and well-being of rural residents, the economically challenged, and minority groups across Virginia and beyond.
There is a lot to celebrate from the 2022-23 academic year!  We hope you enjoy learning more in this year's annual report.
Filed Under: Alumni, Clinical, Community, Diversity, Equity & Inclusion, Education, Featured, Research