UVA Health's stroke program was recently recertified as a Comprehensive Stroke Center (CSC), the highest level of certification available from The Joint Commission and American Heart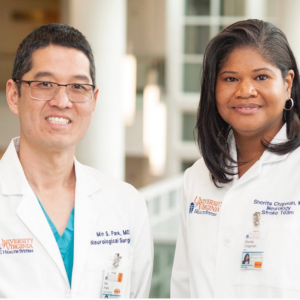 Association/American Stroke Association. Just 12% of hospitals nationwide have earned this certification from The Joint Commission and UVA Health is one of four Joint Commission-certified CSCs in Virginia. According to The Joint Commission, achieving CSC certification means UVA Health is dedicated to raising the bar for our organization's performance — evaluating and evolving the care our patients receive at every touch point in the stroke care continuum.
The CSC core team includes Sherita N. Chapman, MD, Min S. Park, MD, Keri Johnson, Mary Jobson-Oliver, and Victoria Benoit, our Neuroscience service line administrator Susan Jackiewicz, and all the departments involved in providing exceptional stroke care to our patients in the community. Being a CSC takes a village and the UVA stroke center is dedicated to improving health outcomes and reducing health disparities to the patients whom we have the privilege to serve.
Filed Under: Clinical, Faculty, Honors & Awards