One year ago, Brent Kellum took his teenaged daughter, Bella, to the UVA Health University Hospital Emergency Department with what he thought was a severe sinus infection like she had often dealt with since she was a little girl.
Brent, the director of business intelligence in the School of Medicine Dean's Office, knew his daughter had been suffering with a fever and declining health for a number of days, but he never suspected the situation was so serious it would result in emergency surgery within hours of being evaluated.
An examination by neurosurgery resident Jonathan Yun, MD, and a CT scan revealed Bella's infection from her impacted sinus cavities was leaking into her brain membrane. A craniotomy was needed to clear the infection and prevent subsequent swelling. In record time, a team of UVA Health providers quickly prepped Bella for surgery, after explaining the condition and procedure to the family and giving them time to ask questions.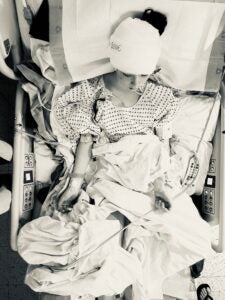 The genuine care and empathy shown to Bella and her family was truly remarkable, bringing them enormous comfort and peace as they faced this unexpected emergency medical procedure. One neurosurgeon took time to braid Bella's hair before surgery to minimize the area that had to be shaved to access her infection. "It was a moment of incredible compassion that I will never forget," Brent states.
In the year that has passed since Bella underwent her life-saving craniotomy, she has had cranioplasty for osteoplastic reconstruction and has made a full recovery. Her hair has grown back from the surgeries and she is now a thriving 12th grader who is interested in pursuing medical research.
Brent and his family are extremely grateful for not only the amazing clinical care Bella received from UVA Health providers, but for their professionalism, empathy, and respect throughout the whole process. They would like to thank Dr. Yun for his quick diagnosis and treatment in the ER; Debbie-Ann Shirley, MD, a pediatric infectious diseases specialist, for her work to eliminate the infection; Continuum Home Health for smooth delivery of medicines and supplies; Amanda Hendrix, PNP, and the entire neurosurgery team for their care during follow-up visits; and Johnathan Black, MD, a plastic surgeon, for minimizing scarring, which is especially important to a 16-year-old girl.
Thank you UVA Health and every member of the team who helped care for my daughter. She is healthy, her scars are healing, and she is doing better than I could have ever imagined. —Brent Kellum
Filed Under: Clinical