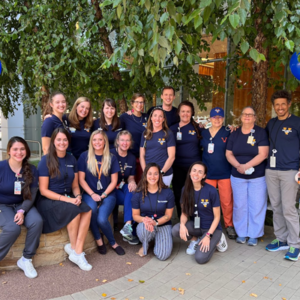 Virginia has started a newborn screening for Spinal Muscular Atrophy (SMA) and the first newborn in the state to be screened positive was recently seen in the Pediatric Neuromuscular Clinic in the Child Development & Rehabilitation Center at UVA Children's Hospital.  Rebecca J. Scharf MD,  MPH, an associate professor in the Department of Pediatrics, Neurology & Public Health, says the newborn received life-saving gene therapy at the UVA Children's infusion center.
Dr. Scharf would like to highlight the incredible work of Anna Jesus, MD, an assistant professor in the Department of Pediatrics, Lorie Nouwairi, RN, nurse coordinator, Alisha Atchison, pharmacy technician from UVA Pharmacy, and the whole pediatric neuromuscular team who provided excellent care for this baby.
This is a major milestone! Screening children earlier will make a major difference in children receiving treatments earlier, saving lives and motor function.  ~Rebecca J Scharf, MD, MPH
Read more about Department of Pediatrics Pediatric Neuromuscular & Muscular Dystrophy Association Care Center.