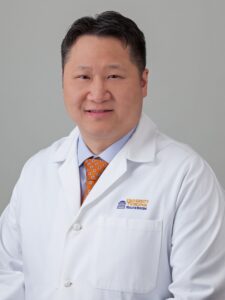 After a national search, Dr. Andrew Wang, Professor of Medicine at the University of Virginia School of Medicine, has agreed to serve as the next Chief for the Division of Gastroenterology and Hepatology. In this role, Dr. Wang will lead a nationally and internationally recognized faculty in expanding gastroenterology and hepatology services as well as continuing to build scholarly activities and collaborations. He will build on the substantial strengths of the Division and continue its tradition of excellence as we develop new programs and enhance operations and existing research, educational, and clinical programs. As you will read below, Dr. Wang is an accomplished clinician and scholar, and we are fortunate to recruit him for this critical role.
Dr. Wang currently serves as Chief of the Section of Interventional Endoscopy in the UVA School of Medicine and Director of Interventional Endoscopy at the UVA Medical Center. He is a graduate of the UVA School of Medicine and completed his medicine residency at the McGaw Medical Center of Northwestern University and his GI fellowship at the University of Pennsylvania. Dr. Wang returned to UVA in 2007 to complete an advanced endoscopy fellowship, and he has been on the faculty of the UVA School of Medicine ever since.
Dr. Wang has been a pioneer in advanced GI endoscopy, and has held various leadership roles in Endoscopy at UVA since 2009. He has successfully directed the UVA Advanced Endoscopy Fellowship Program for over a decade, and he continues to mentor graduates, many of whom have become leaders in academic medicine nationwide. Dr. Wang has been honored with numerous awards, including the Dean's Award for Clinical Excellence (2012) and faculty induction into the UVA Chapter of the Alpha Omega Alpha Honor Medical Society (2021).
Dr. Wang's academic passion has been to care for patients by performing advanced endoscopy and by fostering the safety and efficacy of endoscopic interventions through education and clinical research. Dr. Wang participates in NIH-funded trials, and he has delivered more than 100 presentations in the U.S. and internationally, and co-authored over 100 peer-reviewed manuscripts. Dr. Wang is a Fellow of the AGA, ACG, and ASGE, and he is the immediate Past-President of the Virginia Gastroenterological Society. He serves as Chair of the AGA Clinical Practice Updates Committee, is on the Editorial Review Board of Gastroenterology, and he just completed a term as Chair of the ASGE International Clinical Symposia Committee.
Andy, his wife Esther, who is a graduate of the UVA McIntire School of Commerce, and their three children enjoy traveling, spending time at the beach, fishing, hiking, trying new restaurants, and visiting family and friends.
Please welcome Dr. Wang into this role, which he will assume as of July 1, 2022.  We are grateful for his service and look forward to working with him.
Filed Under: Clinical, Faculty, Honors & Awards