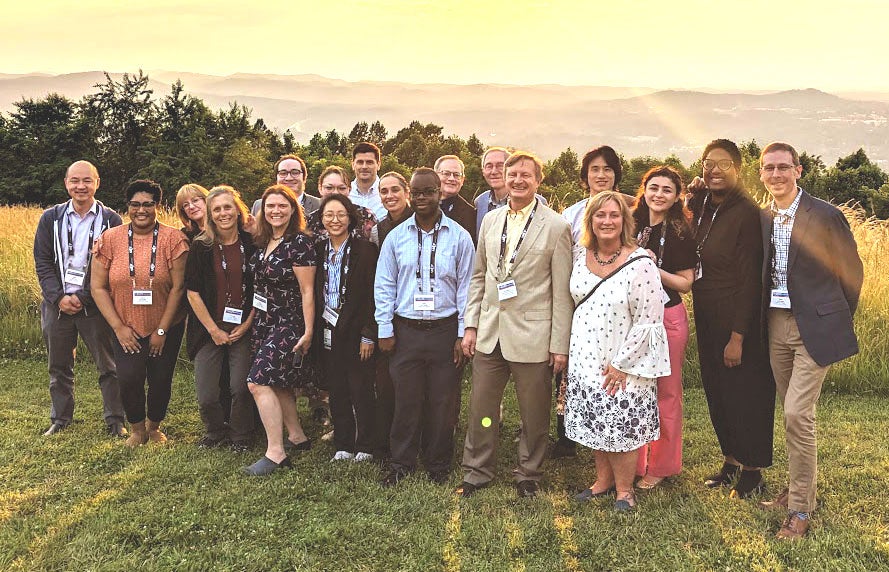 Hosted by the School of Medicine's Department of Pathology, the 58th annual meeting of the Academy of Clinical Laboratory Physicians and Scientists (ACLPS) was held June 8-10, 2023, in Charlottesville, VA at the DoubleTree Hotel. The program featured leading research in laboratory medicine presented by invited speakers and young investigators. Pathology department faculty Jim Gorham, MD, PhD, and Lyndsay Bazydlo, PhD, served as local co-hosts and co-chairs of the ACLPS 2023 Planning Committee. Over 200 researchers and clinicians from around the country attended ACLPS 2023 including MD and PhD clinical laboratory directors from leading academic medical centers, as well as residents and fellows from those programs.
The ACLPS program included cutting-edge presentations in clinical chemistry, clinical microbiology, clinical hematology, toxicology, blood banking and transfusion medicine, cellular therapy, clinical informatics, clinical immunology, clinical laboratory genetics and genomics, and laboratory automation. ACLPS' prestigious Ernest Cotlove Award was presented to Amy Mathers, MD, an associate professor in the School of Medicine's Departments of Medicine and Pathology. Dr. Mathers gave the keynote lecture "The 'next' pandemic – antibacterial resistance."
An awards banquet was held on Friday evening on Montalto (the "high mountain") that is part of Thomas Jefferson's historic estate, Monticello. Repose, the 11,000-square-foot house atop Montalto, is a gracious 1908 American Country house restored by the Thomas Jefferson Foundation in 2011, with magnificent sweeping views of Charlottesville.
Filed Under: Clinical